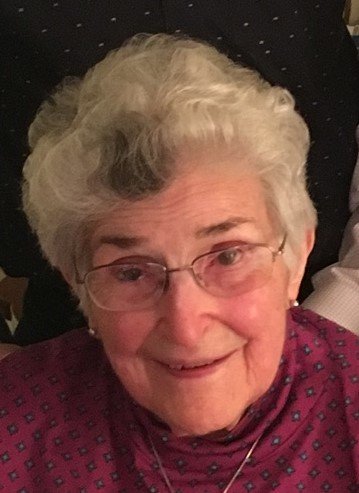 Obituary of Rita Marie Precopio
Please share a memory of Rita to include in a keepsake book for family and friends.

On Tuesday, December 1, 2020 Rita Precopio passed away at the age of 93. She is survived by sons Frank (Sheri) and Michael and predeceased by son Thomas, her husband Frank of 63 years, and her brother Hugh. In addition Rita is survived by grandchildren Jasmine, Victoria, Ryan, Megan and Amy and great grandson Thomas. Also nieces Katie, Susan, Marianne and nephews Patrick and William.
Rita was born April 2, 1927 in Kansas City, KS. Her father, a young lawyer and law school professor, passed away a month after her birth. Rita, her mother and brother moved in with her maternal grandmother and step-grandfather and grew up on their 2 1⁄2 acre farm. Rita's mother was one of the rare female chemists of that era and worked as a partner in a small grain testing business. In Rita's 2010 taped memoir, she recounted fond memories of having fresh fruit and vegetables in the summer and the ritual of canning vegetables and fruit that sustained them in winters throughout the depression and the food rationing of World War II.
Rita and her brother were bright children and both skipped 2nd grade. Rita was a high school freshman when Pearl Harbor was attacked. She graduated from the Catholic college prep school, Lorretto Academy in 1944. She received a scholarship to St. Mary's College in Kansas City, which she attended for 2 years. Her mother, a graduate of the University of Wisconsin, felt it would be important for Rita to graduate from a larger university and Rita transferred to the University of Wisconsin in Madison. She received a Bachelors degree in bacteriology, with minors in Math and Chemistry. As her mother had experienced years earlier when companies did not hire women chemists, no one interviewed women bacteriologists and she moved back home to Overland Park, KS. She soon got a job as a bacteriologist at Menorah Hospital where she enjoyed the work and made lifelong friends. She recalled she had to take a bus and two street cars for her commute on which she commented "I was young and transportation was just something that you solved." She brought this practical, can-do attitude to all aspects of her life. While at Menorah Hospital, Rita advanced her education to become a Medical Technologist. In the early 50's she and her best friend from high school, Mary Kappel Worland, took a 3 month leave of absence from their jobs and toured Europe with one suitcase each and a budget of $2 per day. After her trip, she observed that the best advances in medical technology were coming from the eastern U.S. and her best options to advance her education would be found there. At about that time, another good friend from high school who had moved to Schenectady, NY asked Rita if she would like to go on a blind date with her next door neighbor in Schenectady, Frank Precopio, a young General Electric Ph.D. chemist who was presenting a paper at the national meeting of the American Chemical Society in Kansas City. After their one date, during the winter of 1954, Rita decided the move back east should be to Schenectady living with her good friend and next door to Frank and his roommate.
Rita worked for the New York State Department of Public Health. She worked on identifying viruses related to polio. She found the work very interesting and later commented that it was perhaps fortunate that industrial companies were not hiring female bacteriologists when she graduated because she had found her medical technology work so gratifying and had made so many lasting friendships. Rita and Frank's relationship flourished and they were married April 28, 1956. Frank had been transferred to Erie, PA and Rita joined him there. Her three sons, Thomas, Frank and Michael were born in Erie. In 1962, Frank was transferred to Fairfield, CT. While in Fairfield, Rita stayed very busy with 3 young boys and also made time to be involved with the League of Women Voters and tutor minority students in Bridgeport, CT.
In 1966, Frank left General Electric and became the Research Director at Amchem Products, and the family moved to Fort Washington, PA where she and Frank would remain until 2017. In addition to the very busy role of raising three boys, Rita found joy in participating in her garden club and their annual entries in the Philadelphia Flower Show. Through the 70's and 80's, Rita developed great skill in growing, drying and arranging flowers. She and good friend Leah Riband started a business giving workshops on this subject as well as selling wholesale dried flowers and stunning finished arrangements.
Over time, the business and dried flower hobby wound down and Rita found joy in various volunteer roles including preparing meals and driving for Meals on Wheels and working on the Landscape Committee for Jeanes Library. She also cherished her time with her book club and bridge group.
In 2017, Rita and Frank moved to Meadowood Retirement Community where they made many wonderful friends.
In her memoir, Rita summed up her attitude that shined through to all who knew her: "I have been truly blessed to have a wonderful life."


Funeral Mass will be held on Saturday January 9, 2021 at 11:00 AM at Saint Philip Neri Church in Lafayette Hill.
To view Rita's Funeral Mass at anytime you may click the link below
https://vimeo.com/492147282/cf3b6253a8
In lieu of flowers memorial donations may be made to the Meadowood Benevolence Fund, P.O. Box 670, Worcester, PA 19490. Checks would be made to Meadowood Benevolence Fund.


Share Your Memory of
Rita