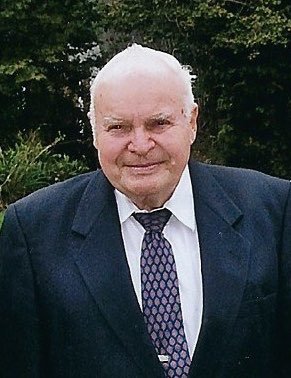 Obituary of John I. McCann
Please share a memory of John to include in a keepsake book for family and friends.
John McCann died peacefully at age 99 ½ at Lansdale Hospital after a brief illness. 1921 was a long time ago; according to family lore his grandfather Patrick McCann had a ticket on the Titanic but, lucky for us, he lost it in a poker game. He was preceded in death by his beloved wife Mary, and a daughter, Maureen. He is survived by 6 daughters, 20 grandchildren, and 19 great-grandchildren; Mary Ellen (Robert) Rueter, Susan (John) Blewett, Patricia (Mark) Schmidley, Eileen McCann (Rob Custers), Bernadette (Tom) O'Kane, Kathleen (Chris) D'Auria.
John lived through the Depression, walking home to have homemade soup for lunch every day with his identical twin brother and friend for life, James. He attended St. Matthew's school in Conshohocken where he met our mother when they were both in the 8th grade. He earned his pilot's wings and served our country in WWII as a navigator in a B24 flying "low and slow" over the English Channel. Thanks to the GI Bill, he was able to go to college upon his return and chose Gonzaga in Spokane Washington, working through the summers on a pea farm. College was the beginning of his lifelong admiration of the Jesuits, although he had to turn down their offers to join the seminary to come home and marry our mom. Three daughters soon arrived and they outgrew the one-bedroom apartment and moved to Penn Road, where he happily stayed for 56 years.
Raising six daughters had its challenges; he was famous for his unique methods of waking up late risers including making the bed around us and flicking the loud light switch incessantly. When we straggled into the kitchen looking our worst, he greeted us with a loud and off-key version of "Here she is… Miss America." He was the packer of lunches, and sent us into the world with an extra-thick baloney sandwich, lots of mustard. Meatballs were another specialty, about the size of a fist and prepared by the vat for a crowd. While our mother was known for operating at a more leisurely pace, he was quick and efficient, earning him the nickname "Speedy Appleton" from her and causing him to say of her, "I'm either waiting on her or waiting for her." Late in life he was still remarkably sharp and healthy, volunteering to drive the elderly at his parish to doctor's appointments, often realizing he was much older than his passenger. Into his 80s he went to the grocery store most days, but not when "the old people" were there, they slowed him down.
John was a philosopher and developed his own personal proverbs that captured his wisdom and humor. When the kids got the upper hand on the parents he would note, "The tail is wagging the dog." On our birthdays he would greet us with the question, "What do you think it is, your birthday or something?" followed quickly by, "You're one of the beautiful people in this world. Not many of us left," or if he hadn't seen you in a while you'd hear, "You're getting better looking every day." Some of us were a little clumsy, like our mother, and he would see us struggling and say, "If you're working hard, you're doing it wrong," or, "If all else fails, read the directions." Happily married for over 50 years, he walked many brides up the aisle with a smile and a "Bon Voyage" at the altar, and said of marriage, "You don't really know who you married for the first 5 years." Once asked for his secret to a happy marriage, he answered in one word, "Sacrifice," and this truly captures his devotion to his family throughout his life. When babies were on the way or someone was nearing the end of life he noticed, "It's not easy getting into this world, and it's not easy getting out."
That Jesuit education nurtured his love of reading; he was a lifelong learner, a philosopher, theologian, and thinker. Armed with the pen he always carried in his glasses case, he did the daily Jumble and crossword puzzles and went on to read and underline articles and non-fiction books. He read two newspapers a day until his last days, often cutting out interesting articles to share. Education was a favorite topic and he loved discussing articles about teaching and learning; just last week he shared an article about artificial Intelligence he was struggling to understand, and had underlined as he read it. The underlined sections included the phrases, "educate ourselves," "true learning," "creativity," and "…learning how to learn is really the most important part of education." To the very end, John was a learner.
His faith was at the center of his life; he spent decades going to daily mass, singing loudly and revising the words to the Our Father long before Pope Francis ever talked about it. Pop's version said, "Let us not be led into temptation," because, as he put it, "The Lord's not leading us into temptation; we're leading ourselves." He loved his Catholic faith and worked at it, struggling with prayer and challenging the Church's shortcomings, saying with disappointment, "There's a lot of Catholics over there, not a lot of Christians." He resolved the conflict by concluding, "It's between the Lord and me."
We are blessed and lucky to have had this wise man of character, faith, humor, and love for so long. We are now challenged to live up to his standards and follow his lead; to be thoughtful and reflective, to learn, and to sacrifice for those we love.
A visitation will be held on Wednesday September 23 from 9:30-11:00 AM at St. Philip Neri Church 437 Ridge Pike, Lafayette Hill, PA 19444
The Funeral Mass will be held following the viewing at 11:00 AM at the church.
To send flowers to the family or plant a tree in memory of John McCann, please visit Tribute Store


Share Your Memory of
John