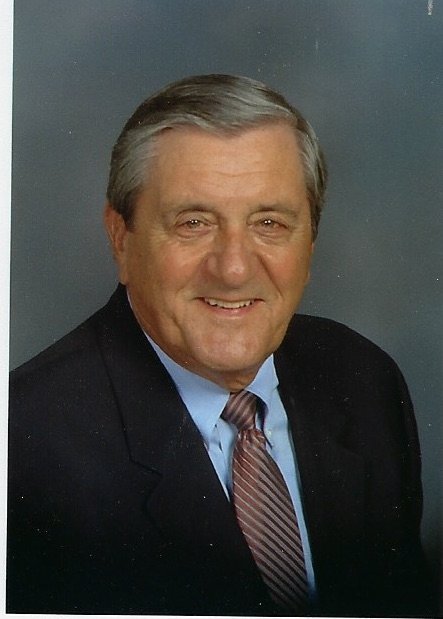 Obituary of Robert H. Himmelreich
Robert H. Himmelreich (Bob), 87, of Blue Bell, Pa. passed away in the early morning hours of February 29, 2020 surrounded by his wife and children. He was the beloved husband of 62 years to Mary Jane Himmelreich (Oesterling). He was the proud father to Becky O'Hara (Ray), Susan Candello, Bob Himmelreich (Deb), Amy Murphy (Jim), and Peter Himmelreich (Tara). Bob was the adored grandfather to Ryan(Jill), Ray (Ahn), and Matthew O'Hara (Samantha), William and Philip Himmelreich, Sean (Hannah), Andrew, Austin, and Cole Murphy, and Emily and Megan Himmelreich. He was also the proud great grandfather to Graham and Keegan O'Hara and newborn Mila Rae Murphy, who arrived earlier this week. Bob was the son of the late Herman and Delena Himmelreich as well as the brother of Carol Brann (Paul) and the late Nancy Wenrich. He was also admired and cherished by his 11 nieces and nephews and was a treasured friend to Colton Drive neighbors, those in his community at Blue Bell County Club, his former golfing buddies, community associates, and his church family.
Born in Lewisburg, Pa., Bob was a 1950 graduate of Lewisburg High School and a 1954 graduate of Lock Haven State Teacher's College with a degree in in Health, Physical Education and Social Studies. In 1958, he furthered his education and received a M.S. in Educational Administration and Guidance Counseling from Bucknell University. While at Lewisburg High School he earned eight varsity letters in football, basketball, and golf and played drums in the band at halftime. His active high school life became even more so in college as he played and lettered in varsity football, basketball, and baseball.
Bob's dedicated career in education began in 1954 when he taught Social Studies and Health and Physical Education at his alma mater, Lewisburg High School as well as coached both football and basketball teams. In 1961, his job focus shifted a bit and he utilized his skills and compassion to begin an almost twenty- year commitment to individuals with disabilities. From 1961- 1965 he was Unit Supervisor at the Vineland Training School in Vineland, NJ. He transitioned in 1965 and brought his leadership skills to the Philadelphia Association of Citizens with Intellectual Disabilities (PARC) as the Director of Education and Training. As his career continued down this path, he worked from 1967-1972 as the Director of Residential Services at Elwyn Institute in Media, PA. In 1972, Bob transitioned and became the Executive Director for Developmental Enterprise Corporation (DEC), which was a community- based agency providing residential services and vocational opportunities for adult clients in Montgomery County. Bob ended this career path by overseeing the construction and becoming the Executive Director of Philadelphia Elwyn Institute, a city based comprehensive rehabilitation center serving children and adults. In his later years, he became a Licensed Pennsylvania Realtor for Coldwell Banker. His family and community connections paved the way and he supported many in their quest for a new home.
While his career demanded much of his time, Bob was also a dedicated volunteer and gave so much back to the community. As a young adult he was a member of the Lewisburg Kiwanis and a Lewisburg Junior American Legion Coach. He was an active member and church council president at Prince of Peace Lutheran Church and was on the Human Resource and Usher Committee at Trinity Lutheran Church.
Bob was a ten-year member of the KenCrest Centers Board of Directors and the Philadelphia and Norristown Rotary Clubs form 1973-2010. Early in his career he was secretary of the Pennsylvania Association of Rehabilitative Facilities and served on the Presidential and Governor 's Committees attending sessions in Harrisburg and Washington each year. Bob's love of sports and his volunteer spirit led him to work with the Plymouth Junior American Basketball Association (ABA) from 1973 until 2010. He was a member of the Executive Council for eight years and a volunteer referee for over thirty years.
Throughout his lifetime, Bob was recognized and honored for his service to others including The Distinguished Service Award for Montgomery County Citizens (MARC) for his outstanding service to the intellectually disabled. In 1978 he was given The Chapel of Four Chaplains of Honor Membership in recognition of outstanding service to all people regardless of race or faith. For his volunteer basketball service with Plymouth Junior ABA, Bob received the Larry Hand Memorial Award in 1995. In 2007 he was given the KenCrest Community Leader Award. Most recently, Bob's entire family joined him in 2016 as he was given the Distinguished Alumni Award at Lewisburg High School and again in 2019 when he was inducted in the Montgomery County Coaches Hall of Fame for community service.
Bob's biggest success in life was his marriage to Mary Jane and the legacy he is leaving to his five grown children, their spouses, grandchildren and great grandchildren. The model of their 62-year commitment and the fun they enjoyed as a couple are an inspiration to everyone who meet them. They never called each other by their first names, but instead referred to each other as "Honey" throughout the years. In the words of his favorite song, My Way, Bob Himmelreich truly lived a life that's full, he traveled each and every highway, but more, much more than this, "I did it my way."
Funeral services will be held on Friday, March 6, 2020 at11:00 AM at Trinity Evangelical Lutheran Church, 1000 West Main Street, Lansdale. Visitation will be held prior to the service from 9-11:00 AM at the church. In lieu of flowers, we know that Bob would appreciate donations in his name to KenCrest Services ( 960A Harvest Drive, Suite 100 Blue Bell, PA 19422) The Himmelreich Library (18 Market St. Lewisburg, PA 17837) or The Green Dragon Foundation for Lewisburg High School, (115 Farley Circle #306, Lewisburg, PA 17837).
To plant a tree in memory of Robert Himmelreich, please visit Tribute Store
Visitation
9:00 am - 11:00 am
Friday, March 6, 2020
Trinity Lutheran Church
1000 W Main St.
Lansdale, Pennsylvania, United States
Funeral Service
11:00 am
Friday, March 6, 2020
Trinity Lutheran Church
1000 W. Main St.
Lansdale, Pennsylvania, United States


Share Your Memory of
Robert