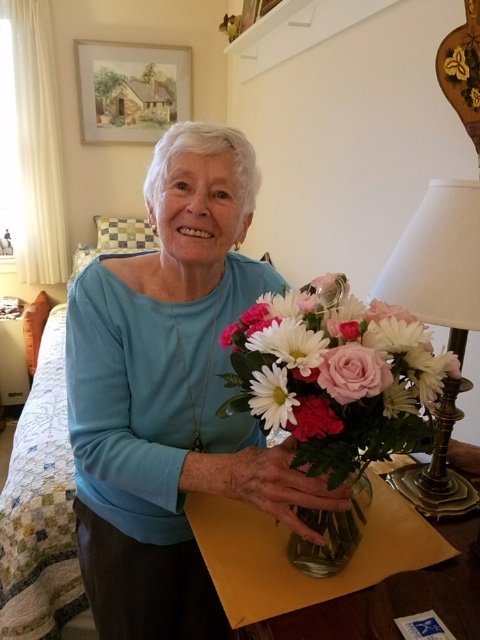 Share Your Memory of
Charlotte


Obituary of Charlotte A. Raffensperger
Charlotte A. Raffensperger, MD, age 91 of Spring House Estates, formerly of Ft. Washington, died Saturday August 3rd.
Dr. Raffensperger was born in Denver, CO, the daughter of the late Robert Charles and Anna Kendall Flanders. She grew up in Roxborough, PA, and resided in Fort Washington upon marrying Dr. Bruce W. Raffensperger in 1956.
Dr. Raffensperger was a graduate of Guilford College and received her medical degree from Womenś Medical College of Pennsylvania. She went on to practice Pediatrics before becoming a Psychiatrist at Norristown State Hospital.
Dr. Raffensperger, also fondly referred to as ̈Dr. Charlotte ̈ in recent years by her friends at Spring House, loved to vacation with her family at their home on Great East Lake, Acton, Maine, for many years. There she spent many hours swimming, sailing, painting, and enjoying the New England scenery and wildlife.
Charlotte was a life-long painter, creating many beautiful watercolors that adorn the walls in the homes of her children. Charlotte was also an accomplished equestrienne, and shared her love of riding with several of her daughters. A woman of many talents, she loved music and attended numerous Operas and Musicals over the years with her husband Bruce. She also played the piano and most recently enjoyed singing in the SHE chorus.
Charlotte took pleasure in travel as well, and enjoyed several memorable trips to Europe with Bruce.
Charlotte is preceded in death by her husband Dr. Bruce W. Raffensperger. She is survived by four daughters: Nancy Aikins, Kim Einhorn (Skip), Tina Raffensperger and Linda Raffensperger, one son: Curt Raffensperger (Nancy) and preceded in death by son Neil Raffensperger. She is also survived by her two brothers Phillip (Moorestown, NJ) and Robert Jr. (Flagler Beach, FL). She has numerous grandchildren, and several great grandchildren.
A memorial service will be held Monday August 12th at 2:00 PM at Spring House Estates, 728 Norristown Road, Lower Gwynedd, PA. Friends may call immediately following the service at Spring House.
Burial will be private.
To send flowers to the family of Charlotte Raffensperger, please visit Tribute Store