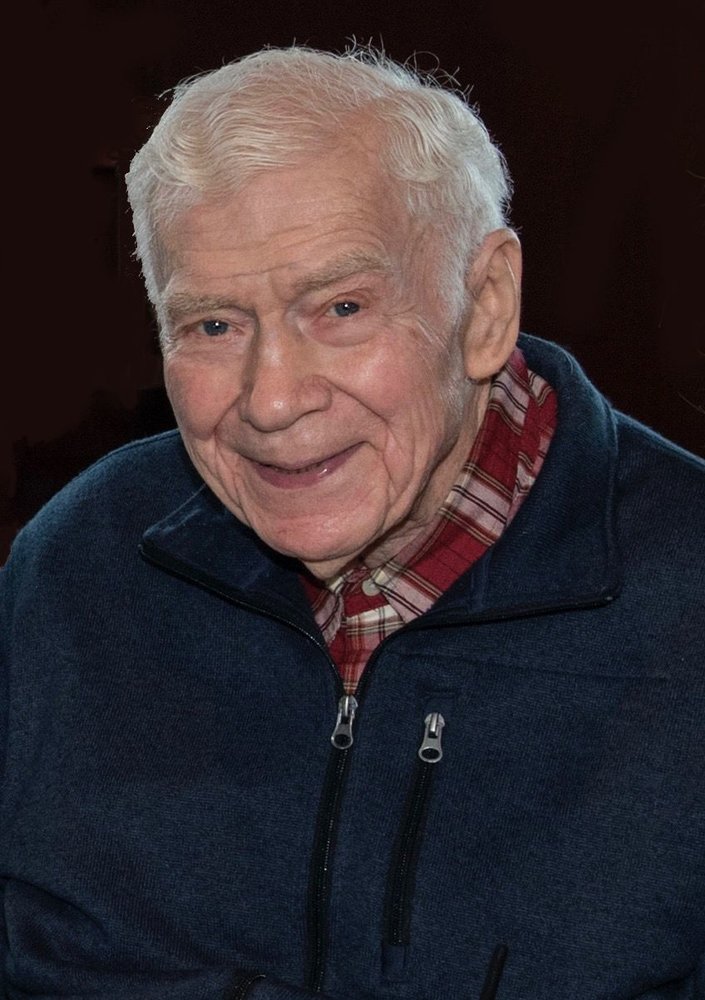 Share Your Memory of
Joseph
Obituary of Joseph J Kalkbrenner
JOSEPH J. KALKBRENNER of Maple Glen, PA passed away peacefully on Monday, April 29 surrounded by family. Born November 2, 1928 in Philadelphia, Joe was the beloved husband of Donna J. Kalkbrenner (nee Hawthorne) until her passing in2004. He leaves behind his dear friend and companion Laurette Verbinski of LaJolla, CA as well as a wonderful legacy of five children including Joseph J. Kalkbrenner Jr. (Laurie), Mary E. Klein (Robert), James F. Kalkbrenner (Donna Marie), Donna J. Kalkbrenner and John T. Kalkbenner (Michelle) and 14 Grandchildren including Joseph J. Kalkbrenner III, Matthew A.Kalkbrenner (Kaity), Stephen M. Kalkbrenner (Jocelyn), Ryan C. Kalkbrenner, Meghan E. Klein, Mary K. (Kate) Tuohy (Bryan), Robert J. Klein, Jr., Molly A. Klein, Matthew J. Kalkbrenner, Paul J. Kalkbrenner, Julie A. Kalkbrenner, Rachel R. Kalkbrenner, Kayla M. Kalkbrenner, and Jason T. Kalkbrenner.
Joe's parents, Karl and Berta (nee Trickel) Kalkbrenner, emigrated from Bietigheim, Germany to Philadelphia in 1923 with their son Carl who was two and had Joe five years later. Joe graduated from St. Henry's Parochial School in Philadelphia in 1942, Frankford High School in 1946, and Temple University in 1950 where he received a degree in business administration. Upon graduation, Joe joined Philco Corporation as a purchasing agent but a year later was recruited into the U.S. Army where he served as a Private First Class during the Korean War from 1951-1953 and was then transferred to the U.S. Army Reservefor five years. He continued with Ford Motor Company and Ford Aerospace for the duration of his career. He retired in 1987.
In July 1956 Joe married Donna J. Hawthorne who had been introduced to him by his best friend Lou Obermiller's wife,Joanne. Joe and Donna raised five children and reveled in themand then their grandchildren. The family had a strong affinity for the shore and spent summers in Cape May and later in Longport, NJ. Joe and Donna were married for 48 years until Donna's battle with Alzheimer's disease took her home to the Lord. Joe valiantly and selflessly cared for Donna at home throughout the course of her illness.
While Donna was sick, her best friend from Little Flower High School, with whom she played on the basketball team, wrote letters to Donna for Joe to read to her about their fun childhood days together. About the same time Donna passed, so too did Laurette's husband Victor. During a trip to the east coast, Laurette and Joe had an opportunity to see each other again and the rest is history. Joe and Laurette have shared a wonderful friendship for the past dozen years. They enjoyed travelling together and visited each other as well as Hawaii, Mexico, Greece and Turkey, Alaska, and most recently in fall of 2017cruised through the Panama Canal.
In addition to family and friends, religion was a very important part of Joe's life. Until he stopped driving in 2017, Joe attendedMass almost every day at his parish church of St. Alphonsus in Maple Glen. Throughout the years he served as an usher and also counted money after mass. Joe loved spending time with his parish community. In fact, he counted himself blessed to be part of a fabulous and caring group of friends from St. Alphonsuswho are aptly named "A Few from the Pew" and constitute a small family themselves.
Joe lived a life of dignity and grace and served as a terrific role model to both young and old. His constant, quiet determination and positive attitude centered around his faith in God and the church. He was ready to go home to the Lord when he was called.
Friends and family are invited to attend Joe's viewing on Monday, May 6 from 10 a.m. to 11:30 a.m. at Saint AlphonsusChurch on Conwell Drive in Maple Glen. Mass will follow at 11:30. Interment will take place at Holy Sepulchre Cemetery in Philadelphia. Luncheon location will be announced at Mass.
Mass will be said by Rev. Msgr. Brian P. Hennessey of Saint Alphonsus.
In lieu of flowers, donations may be made to the Scholarship Fund of Little Flower Catholic High School in Philadelphia or the Penn Memory Center.
Visitation
10:00 am - 11:30 am
Monday, May 6, 2019
Saint Alphonsus Catholic Church
33 Conwell Dr.
Maple Glen, Pennsylvania, United States
Funeral Mass
11:30 am
Monday, May 6, 2019
Saint Alphonsus Catholic Church
33 Conwell Dr.
Maple Glen, Pennsylvania, United States
Interment
Holy Sepulchre Cemetery
3301 Cheltenham Ave.
Philadelphia, Pennsylvania, United States