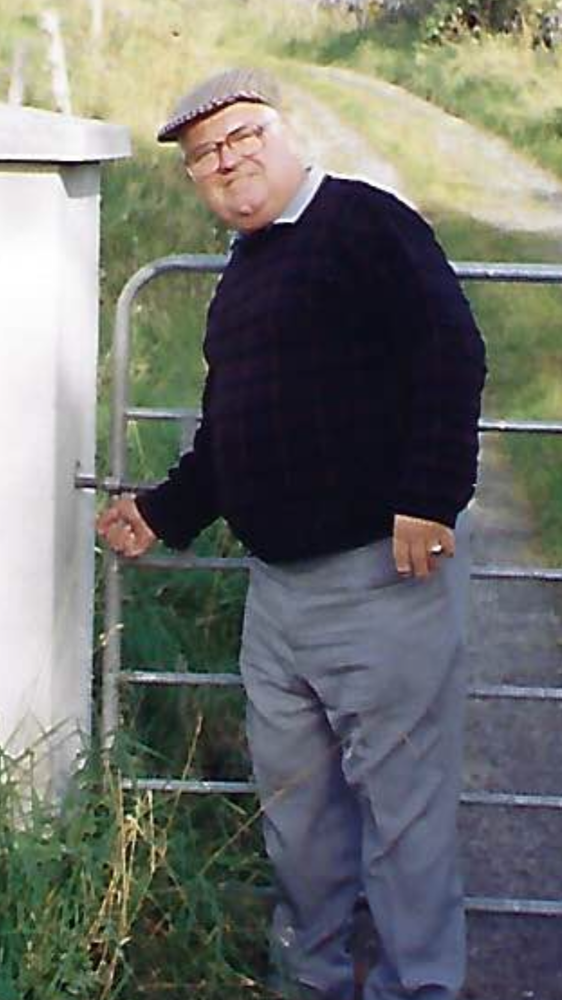 Share Your Memory of
Thomas
Obituary of Thomas L.J. McAllister Sr.
Thomas McAllister of Lafayette Hill made his final Irish exit on Sunday, March 17. He was surrounded by his wife of 63 years, Dolores (Maxwell), and his loving family.
Tom was born in 1935 to Anna and Joseph McAllister in Philadelphia. His family were members of Immaculate Conception Parish in Germantown where he was a faithful altar server. Tom was the youngest of 5 children. His brothers Joseph, Bernard, and Jack, and sister Nancy all preceded him in death.
Tom was a proud Falcon. He graduated from North Catholic High School class of 1953, and then Villanova University class of 1957.
Tom had many jobs in his life from driving a Philadelphia taxi cab in college, to caddying at Old York Road, Country Club, to United Motors, Household Finance, Ritter Financial and Salamone Real Estate. Tom was a resident of Lafayette Hill where he owned and operated Scottie Cleaners starting in 1970 and knew everyone in town. He most recently drove for the Ryder Service co-op where he drove people in and around Montgomery County.
Tom was a long-time member of Plymouth Country Club where he enjoyed golfing and playing cards. He was a tournament gin player. He also served on the Board of Governors at Plymouth for many years. At Plymouth Country Club he shared his love of golf with his grandchildren and enjoyed watching them participate on both the junior golf and swim teams.
Tom was an active Whitemarsh resident. In the 1970's and 1980's Mr. McAllister was a member of the Whitemarsh Lions Club and helped run many Easter Egg Hunts and Fourth of July parades for Whitemarsh Township. He was also a Democratic committeeman in Whitemarsh. He also often was found at Miles Park for many years supporting all sports leagues, his children's teams and then his grandchildren's teams.
Tom was devoted to the Shrine of the Miraculous Medal in Germantown and was a faithful Roman Catholic. He was a member of St. Philip Neri Parish for over 55 years and attended daily mass as long as he was able.
Most of his life during the summers Tom would be found on a golf course, in Atlantic City, or vacationing with his family at the Jersey shore. He also enjoyed many golf trips to Puerto Rico with his fellow members of Plymouth Country Club.
Tom was a devoted husband to his wife Dolores for 63 years. He was a proud father of Thomas Jr. (Cheryl), James (Maureen), Dolores Higgins (Tom), and Eileen Herncane (Tucker) and also his daughter Maureen Minetti (Angelo) who preceded him in death in 2008. Tom was a doting grandfather to 16 grandchildren: Christopher, Jeffrey and Michael Minetti. Angela McBride, Carrie Kennedy, Thomas, Patrick, Kevin, Shannon, Brendan, and Claire McAllister. Thomas, Conor, Ronan, and Ciara Higgins and Tucker Herncane Jr. All who adored and will miss him dearly. He also had 20 great grandchildren. Gran pop never missed a swim meet, football, baseball, soccer, basketball game or event that his grandchildren invited him to.
Tom was a passionate sports fan and loved watching golf tournaments especially the LPGA's Lorena Ochoa, all Philly sports teams, and the New York Yankees. He proudly attended the World Series in both the 1950's and in 2009 to see his Phillies and Yankees play each other. He would talk sports to anyone who walked in his door.
Tom had a larger than life personality and was a friend to everyone the moment they met him. He welcomed all to his home. The McAllister Clan had huge holiday dinners, but Tom always remembered to deliver a meal to shut-in friends and the homeless.
Tom enjoyed his trips to Ireland and loved listening to Irish Music especially The Paul Moore Band, Timlin and Kane, Phil Coultier, The Furey Brothers and The Chieftans. He loved enjoying live music at Brittinghams Irish Pub in Lafayette Hill. Tom's family will miss him dearly "every day in every way forever and ever after".

The Funeral Mass will be held on Friday, Mar 22 at 11:00 AM at Saint Philip Neri Church 437 Ridge Pike, Lafayette Hill

An Evening visitation will be held on Thursday, Mar 21 from 6:00 to 8:00 PM at Saint Philip Neri Church 437 Ridge Pike, Lafayette Hill and a Moring Visitation will be held on Friday, Mar 22 from 9:30 to 11:00 AM at the church before the Mass

Thomas's Interment will be held at Calvary Cemetery 199 Old Gulph Rd. , Conshohocken following the funeral Mass


.