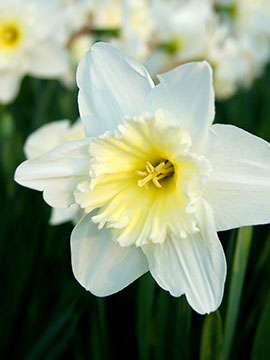 Share Your Memory of
Jill F.


Obituary of Jill F. Murphy
Jill F. (Molyneux) Murphy 96, of Roxborough and formerly of East Falls, died early Tuesday morning, January 10, 2012 at Bishop White Lodge in Cathedral Village. She was the wife of William H. Murphy, her husband of nearly 25 years until he passed away. Born November 17, 1915 in East Falls she was the youngest child and only daughter of Arthur K. Molyneux, Sr. and Elisabeth (Fairlee) Molyneux. Her brothers Arthur, Thomas, and Jack all preceded her in death. Jill was employed for many years as a bookkeeper with the Bringhurst Funeral Home when it was located in Center City Philadelphia. While employed full time, Jill also selflessly cared for her own aging parents at the family home. Jill retained a fondness for her afternoon tea, her magnificent rose bushes, and the wild birds that would visit her feeders every day. Though diminutive in stature, Jill had quite a presence. She held many strong opinions, which she had no reluctance to share. Jill was probably influenced in her formal ways by her parents who emigrated to these United States from the British Isles. Occasionally if the children who were visiting became too boisterous, she might borrow an old Scots' admonition from her mother, "Haud yer wheesht!". By her tone, everyone understood that it was time to quiet down. Her family knew how she enjoyed shopping at the finest stores in Center City and in Germantown. She insisted on quality and had a marvelous eye for style. Her niece and nephews remembered Aunt Jill's home as always "just so"... a place for everything and everything in its place. She was always proud of her family and happy to have them visit. Though she never had children of her own, she lavished love and attention on the children of her three brothers. Jill did not drive an automobile until well into her 40s but she managed to get around on PTC, then SEPTA, or simply by walking. Well into her ninth decade, she would still walk from her home on Kingsley Street "up the Ridge" to the Post Office and back. Aunt Jill was a proud and fiercely independent woman... she maintained her home beautifully until departing for Cathedral Village. She kept friends by being a faithful correspondent. Jill always considered her brothers' opinions but never made a decision simply to please (or appease) any of them. In her golden years, Jill was a fount of information regarding those times "of the Great Depression or the two World Wars", "before Walnut Lane was a golf course" and "when the meetings at the Labor Lyceum were so volatile". Jill Murphy is survived by her niece, Beth Molyneux, two nephews, Jack Molyneux and Mark Molyneux and by a step-daughter, Jane Anders. Visitation Friday 1/13/2012 -10-11am. Funeral service is planned for 11 A.M. at Lownes Funeral Home, 659 Germantown Pike, Lafayette Hill, PA. Burial will follow at the George Washington Memorial Park . For those desiring, contributions may be made in lieu of flowers to the Bishop White Lodge at Cathedral Village, 600 E. Cathedral Road, Philadelphia, PA 19128.
To send flowers to the family or plant a tree in memory of Jill F. Murphy, please visit Tribute Store
Funeral Service
11:00 am
Friday, January 13, 2012
Lownes Funeral Home, Lafayette Hill, PA.
659 Germantown Pike Lafayette
Hill, Pennsylvania, United States