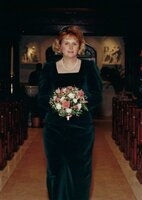 Elaine J Flanagan
Elaine Justina (Hylinski) Flanagan, 71, died peacefully at her Lafayette Hill, PA home on Sunday, February 19th, 2023. Born at Sacred Heart Hospital in Norristown, PA on November 9th, 1951, she was the daughter of the late Carl and Mary Alice (Hoy) Hylinski. Elaine grew up on East Elm Street in Conshohocken, attending St. Mary's through elementary school. Elaine graduated from Archbishop Kennedy High School in 1969 and went to work as a bookkeeper immediately upon graduation. Elaine worked many years at a local company, with increased responsibilities in payroll, insurance, and accounting. She took courses in the business program at Villanova University in the early 1970s. Elaine served as the bookkeeper and business manager for the company founded by her husband, National Packaging Systems of Allentown, PA through the early 2000s.
In 1975, Elaine married her high school sweetheart, Kevin J. Flanagan, Jr. They went on to have five sons together: Kevin, Matthew, Andrew (Alessandra), Michael, and John "Jack" who died during childbirth. Elaine was devoted to "her boys". She spent hours doing carpool, attending sports events, securing tickets to Villanova games and BIG EAST Tournaments, making numerous meals, and running loads of laundry. Elaine was a fixture in the St. Titus community and "The Farm" on Hollow Road in Collegeville, the hangout of many a pool party, pick-up basketball game, and football Sunday.
As "her boys" grew older, Elaine was free to pursue her own interests. She was an avid gardener, furniture restorer, reader, Thrift Store shopper and family CFO. She enjoyed keeping up with the news and current events and was quick to forward articles that she thought interesting to a wide circle of friends and family. Elaine survived a battle with breast cancer in 2018, a fallen tree that destroyed her home in 2019 and the COVID times. She always enjoyed yearly trips to the Jersey Shore with extended family and friends, as well as trips down South to Alexandria, Atlanta, Charleston, and Savannah. Elaine was renowned for her themed cakes for birthdays and parties. She liked sweet things: Moscato wine, Dots candies and sugar cookies.
Elaine was the third sister in a family of five and was the typical middle child assuming the role of the conciliator. Elaine maintained contacts with all of her siblings and was always available to chat or to visit. All of her sisters, Carol Pishock (James), Patricia Adams (Wayne), Jane Morrison (Edward) survive Elaine. Sadly, Elaine was predeceased in death by her only brother Steven Hylinski (Barbara). Elaine and her sister Carol lived for many years on Polk Road in East Norriton, PA. She and "her boys" were especially close to their Pishock cousins growing up and remain so to this day. Elaine was particularly attached to her godchild, Eleanor Morrison, whom she considered a daughter as well as a doll to dress up. Elaine had a core group of girlfriends dating back to her high school years, as well as close family friends, The Thomas (Lina) McCracken family.
Relatives and friends are invited to meet at St. Philip Neri Church in Lafayette Hill, PA to attend her evening visitation on Sunday, February 26 at 4:00-6:00 pm and morning visitation on Monday, February 27th at 9:30- 11:00 am followed by a Mass of Christian burial mass at 11:00 am. Interment will be held at Calvary Cemetery of West Conshohocken.
In lieu of flowers, the family requests memorial contributions be made to The Matthew J. Ryan Center at Villanova University. Check and online giving instructions are listed below.
Check Mailing Instructions:
Villanova University
Attn: Matthew J. Ryan Center - Old Falvey 304
800 E. Lancaster Avenue
Villanova, PA 19085
Memo Line Correspondence: Elaine Flanagan Memorial - Ryan Center
Check Payable: Villanova University
Online Giving:
www.villanova.edu/memorialgifts
Please enter where you would like to designate your gift:
Matthew J. Ryan Center
Make a gift in memory of a deceased loved one or friend by including their name:
Elaine Flanagan Memorial
Address so we can notify the next of kin of your gift:
The Flanagan Family
828 Juniper Drive
Lafayette Hill, PA 19444