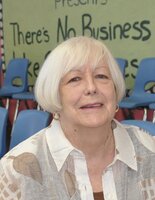 Margaret A. Carey
Margaret Ann (Peggy) Carey of Upper Gwynedd, PA, passed away peacefully on February 5, 2023, at the age of 87, after a battle with lung disease. Peggy loved life and spending time with her family and friends. She was a very proud mother and grandmom.
Peggy was born on April 8, 1935, in Saint Clair PA, to the late Joseph and Agnes (Kerns) Parker. She was the beloved wife to the late Joseph E. Carey. She was also predeceased by her brothers Billy, Jack, and Teddy.
She grew up in Saint Clair before moving with her husband to Willow Grove and then to Warrington until finally ending up at the Reserve at Gwynedd in Upper Gwynedd. She made friends wherever she went and had many friends at the Reserve. She maintained a very active social life, playing cards, going to movies, shows, and out for meals.
She loved to spend time in Avalon with family and friends and said she could always breath better at the shore. She claimed it was the salt air. She also loved to travel and always talked about her trip to Greece as being one of her highlights. She loved good food and had a sweet tooth never turning down a good piece of chocolate or ice cream. She had a quick wit and a good sense of humor.
The highlight of her life were here granddaughters who she loved more than anything in the world.
Peggy is survived by her son Ken and grandchildren Olivia and Julianne of Blue Bell. Nieces and nephews Bonnie (Parker) Fedor, Stephen Parker, Karen (Parker) Knittel, and Michele (Parker) Hirshmann and sister-in-laws Madeline (Kondalski) Parker and Kathryn (Peterson) Parker.
A service of Christian burial will be held on Thursday, February 9, 2023, at Saint Helena Church, 1489 DeKalb Pike, Blue Bell, PA. Visitation hours will begin at 10:00 am with a mass following at 11:00am. Interment will be private, at Indian Town Gap National Cemetery where she will be laid to rest with her husband. In lieu of flowers, please consider donations in Peggy's memory to the Tunnels to Towers Foundation