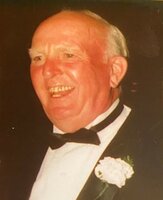 Thomas P. Vesey
Thomas "Tom" P. Vesey, who brought joy and humor into every room he entered, passed away on January 12th in Abington, Pennsylvania. Just shy of 94 years old, Tom was born on February 3rd, 1929 and went on to grow up in Germantown, Philadelphia alongside his parents and three siblings.
Growing up, Tom was a proud altar boy at Immaculate Conception Parish, where he was a parishioner through his time at Germantown High School. Following the conclusion of his secondary studies, Tom entered the United States Army, where he served in Wisconsin (fighting the floods, of course) and Missouri. On a ten day furlough in 1951, Tom married the love of his life, Theresa, because in his words, "you make time for it."
Upon honorable discharge from the Army, Tom secured a job as a lineman and foreman at Henkels & McCoy, where he worked for 22 years, followed by Asplundh Tree Expert Company, where he finished his full-time career. In his spare time, Tom loved to golf, and later in life often jokingly said, "I hit the ball, but can't see where it goes."
Tom and Theresa had five children, all born in West Oak Lane in Philadelphia. The family went on to live in North Hills, where Tom and Theresa would frequently take the kids to Fisher's Pool. Tom and his family also enjoyed vacationing at the Jersey Shore and in the Mountains, and when his children were of age to go down the shore by themselves (often with little money to their names) his classic response was, "don't call me."
Following Theresa's death in 1996, Tom went on to marry Rosemary Lawrence and following the death of Rosemary, met his beloved Florence Cook in 2010—the two were inseparable since. Tom and Florence loved to spend time together—whether they were going to The Dance (where they met), vacations, doctors' visits, or Aldi. Another favorite tradition of theirs included Tom attending 5 o'clock mass and going to Florence's for dinner afterwards.
Tom is predeceased by his parents Ann and Mike Vesey, wife Theresa Vesey, Rosemary Lawrence, son Thomas Vesey, and sister Teresa Gallagher. Tom is survived by companion Florence Cook, sister Bernadette Giuliani, children Deborah Henderson (Mack), Diane Lynch (James), Denise Vesey, Eileen Loesch (William), Michael Vesey and Ellen Vesey, in addition to 16 grandchildren and 15 great grandchildren.

Visitation (10:30—11:30 am) and funeral mass (11:30am—12:30pm) will be at Saint Philip Neri Church at 437 Ridge Pike, Lafayette Hill, PA, 19444, Friday, January 20th, 2023. Graveside service will follow at Holy Sepulchre Cemetery at 3301 West Cheltenham Avenue, Cheltenham, PA, 19150. In lieu of flowers, we kindly request that donations in Tom's name be made to The American Cancer Society.