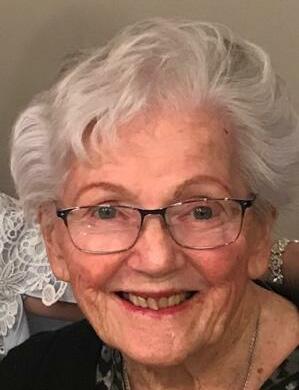 Marion Theresa "June" Fair
Marion (June) Theresa Fair, age 93, died on November 21,
2022, at her home in Plymouth Meeting, Pennsylvania,
surrounded by the love of her children and family.
She was born February 13, 1929 in Philadelphia, PA to
John and Augusta (Tschoepe) Standeven and was the
middle sister of 3. June was a lover of music and took voice
lessons in her student years to develop her singing range.
The neighbors often commented to June's parents of the
beautiful sounds that would emanate from the home whenever June was
there. She received lead roles in her high school musicals at St. Johns H.S.
in Manayunk and sang to her graduating class on stage at the Radio City
Music Hall in NYC. She graduated from St. Johns H.S., class of 1948. She
held various jobs in the Administrative field post-graduation before marrying
her beloved George Fair, Jr. of Roxborough, PA, who preceded her in death,
September 5, 2010. Along with George, June was preceded in death by her
parents, brother Jacky and sister Ruth. June is survived by her children,
David, Patricia, Robert, Paul and John.
Throughout her life, she was an active member of her church and served as a
Eucharistic Minister, as well as being an avid golfer and Mahjong player.
June will always be remembered as the bright and shining star that she was to
both friends and family alike. In all things, she brought her kindness, smile
and love of life and this will be missed most of all.
Funeral services will be held on Monday, November 28, 2022 at Epiphany of
Our Lord R.C.C., located at 3050 Walton Rd., Plymouth Mtg., PA, 19462.
There will be a viewing from 10 am to 11 am followed by a service. Burial will
follow at Calvary Cemetery in West Conshohocken. Memorials can be made
in Marion's name to Epiphany of Our Lord R.C.C. Special thanks to Miss
Laura Stephenson for her special care of mother during her final days.