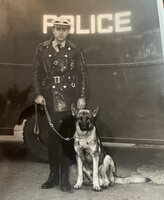 Ernest W Kiefer
Ernest W Kiefer Jr passed away on November 19, 2022. He was 77 years old. Ernie was born March 7, 1945 in Philadelphia to the late Ernest and Edna May Kiefer in Philadelphia. He graduated Roxborough High School in 1963 and married Shirley in 1965. He began his career as a Philadelphia Police Officer in 1966 in the 9th District, 39th District K-9, Transit K-9 and then to the Mayor security unit his retirement in 2004.
Ernie is survived by his wife Shirley son Steven (Cheryl) grandchildren Natalie and Noelle, brothers John and David. He was predeceased by son William.
Visitation will be held at Lownes Family Funeral Home on November 25, 2022 10:00AM to 11:00AM. Funeral service to follow immediately. Interment private.