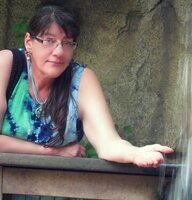 Ellen Claire Stevenson
Ellen Claire Stevenson was born in Philadelphia, and attended school in the Colonial
School District through Senior High. Ellen was always a free spirit, with a big heart, a
love of animals, horticulture, music, reading, and genealogy. She stood up for lost souls
and underdogs throughout her life. She was still working on our huge family tree on
Ancestry until right before she became ill.

Passionate, wise and intelligent, she always had advice or an offer of help to those she
cared about. She was dedicated to family and those she loved.
She is survived by her daughter, Alicia C. Stevenson-Utti, two younger sisters, Anne
Stevenson Smith of Penllyn and Julia L. Stevenson of Fleetwood, and her last partner in
business and life, Mike Killian.