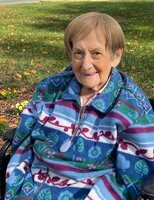 Isabel M Zeoli
Isabel Mary Zeoli, age 92, born and raised in Philadelphia PA, passed away peacefully on
November 9, 2022. She was born on September 11 th to her loving parents, Josephine and
Stephen.
She was the beloved wife of 50 years to her late husband, Joseph. She is survived by her
children Steven Zeoli and Joanne Robinson; late daughter-in-law, Mary and son-in-law,
Brian Robinson; adorned grandmother to Nick and Joseph Zeoli, and Samantha Robinson-Stahl,
Rachael and Johnathan Robinson; and great-grandmother to Tenille Stahl. Also surviving are
countless nieces, nephews, cousins, and dear friends.
Isabel was a graduate of South Philadelphia High School, class of 1948. She started her career as
a clerk at Alcoa Aluminum Company and then continued for many years working at the Masonic
Village of Pennsylvania, where she loved interacting and laughing with the elderly residents.
She always had many friends and family who loved her dearly. Isabel dedicated her life to
family and spent most of her life living in the greater Philadelphia area.
Isabel was known for her beautiful smile and kind and generous spirit which carried through to
everyone she met! Anyone who was lucky enough to know Isabel knew of her sweet
personality, love of family and friends, entertaining and cooking. She was an amazing cook of
Italian dishes – meatballs, eggplant parmesan, and pizzelles were her specialties!
Isabel was always known as someone who made others feel loved, welcome, and comfortable.
She loved to socialize and share stories from her childhood and younger years from happy
times with her parents, siblings, cousins, and large extended family - she was always good for a
kind word and a laugh!
All are welcome to attend a celebration of Isabel's life at St. Philip Neri Church, 437 Ridge Pike,
Lafayette Hill, PA 19444, on Thursday, November 17. A viewing will be held from 10:00 am-
11:00 am, with a mass at 11:00 am, followed by a Christian burial at Holy Sepulchre Cemetery
with a luncheon to follow.