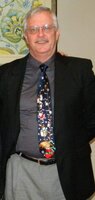 John P Howley
Howley, John Patrick ~ 66.5 years old after a hard-fought battle with Lewy Body
Dementia, John has joined his ancestors. His parents Jack and Pat (Van Horn) Howley,
his brother-in-law Russell D. Giangiulio. John is survived by his wife of 43-years
Lorraine Giangiulio, his children James R. (Joanna Barber), Anastacia L., Caitlin E., and
Sara L. Howley. His siblings Kathleen (Dennis Rachor), Eileen Steelman, Michael,
Maureen (Jerry Wilson), Teresa (Roy Gould). His In laws Patricia R. Giangiulio, Richard
J. and Joan Giangiulio, Suzanne (Bill Lloyd), Jeanette (James Senderling), Trish
Giangiulio (Barry McCommon) and Valerie (Matt Moody), 18 Nephews and Nieces and
10 Grand Nephews and Nieces.
The Family would like to thank the Marple Garden Rehabilitation and Nursing Home for
their constant care and support.
In lieu of flowers please donate to Ronald McDonald House @ Akron Children's
Hospital 141 W. State Street Akron, Ohio 48302.
Visitation will be held on September 2, 2022, at St. Philip Neri Church (437 Ridge Pike
Lafayette Hills) from 9:30 to 11:00 with Mass being celebrated at 11:00 AM,
Interment will be at Calvary Cemetery directly follow mass.