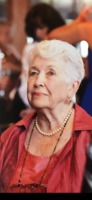 Dorothy E Muessig
Dorothy E. Muessig. (nee WOERTZ) July 28, 2022 of Lafayette Hill, Formerly of Oreland, age 92, wife of the late Peter P. Muessig Jr., mother of Paul (Kathy), Karl (Betsy) and Virginia Sague (Edward), sister of Edna Mae Giessner.
Dorothy was a life-long teacher and attended Little Flower High School and La Salle University. She went on to teach children with special needs at the Ashbourne School in Elkins Park.
She loved gardening and was very talented in knitting and sewing--passing these skills onto her children and grandchildren. Her beautiful handiwork became family keepsakes.
Dorothy had a clever way of crafting words and was a lover of literature. This passion carried over into her time spent volunteering as a librarian and in writing her local newsletter.
She was loved by her grandchildren Kate, Paul, Peter, Kristen and Karen and great-grandchildren Vin, Jace, Emerson, Everett, Benjamin and Emmaline who knew her as Oma.
She traveled extensively around the world and often took her children and grandchildren on these adventures to educate and broaden their perspectives. She kept in touch with the distant relatives of her ancestors in Germany and Switzerland.
Funeral Mass, Saturday, August 6, 2022, 11:00 A.M. at St. Philip Neri Church, Lafayette Hill. Viewing 9:30-11:00 A.M. at the Church before the Mass. Interment will follow Mass at Holy Sepulchre Cemetery.
A livestream of the Mass will also be available at the link below:
Memorial donations may be made to Little Flower High School. www.littleflowerhighschool.org