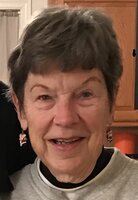 Janet M Morton
Janet M Morton, 85 years, of Pottstown, passed away on Wednesday July 13, 2022
Janet was born in Philadelphia on July 9, 1937, the daughter of Thomas Morton and Marion (McFarlan) Morton. She attended Conshohocken High School and was a member of the Class of 1955.
Janet trained as a Medical Technologist at Lankenau Hospital and was employed there in that capacity for several years before raising her family. She then worked as a medical transcriptionist for a family practice group in Plymouth Meeting for 15 years, and for MCES in Norristown. Most recently, she was organist and choir director at St Paul's UCC in Fort Washington for 26 years, before retiring in 2019.
Janet's love of music took many avenues over the years, including accompanying and musical directing for several local community theater groups. An avid vocalist, Janet sang with the Mendelssohn Club of Philadelphia and The Philadelphia Singers Chorale, performing at The Academy of Music in Philadelphia, as well as Carnegie Hall in New York City.
She is survived by her daughter, Sandra (Nerlinger) Croxton, of Sanatoga, a son, Thomas Nerlinger, of Gilbertsville, and a grandson, Evan Croxton, of Sanatoga.
A memorial service will be held on Friday, July 29th at 10:30 AM at St Paul's UCC, 440 S. Bethlehem Pike, Fort Washington, PA.
In lieu of flowers, the family would appreciate donations in her name to Best Friends Animal Society, 5001 Angel Canyon Road, Kanab, UT. 84741-5000 (bestfriends.org), the American Macular Degeneration Foundation, PO Box 531313, Henderson, NV. 89053 (eyesight.org) or Guiding Eyes for the Blind, 611 Granite Springs Road, Yorktown Heights, NY. 10598 (guidingeyes.org).





.