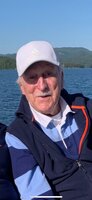 Harry F. Bradley
Harry Frost Bradley, age 92, of Jenkintown Pennsylvania passed away peacefully in his home surrounded by his loved ones on Saturday, July 9. Harry was an only child, born in the Juniata Park neighborhood of Phila to George and Elsie Bradley recently of Yorkshire, England. He graduated from Northeast high school in 1947. He played saxophone in the high school band and utilized this skill and love of jazz to play in bands throughout his 20's. After high school he joined the Air Force during the Korean War and served in Alaska as a surveyor. He proceeded to go to Drexel on the G.I. Bill to begin an education in civil engineering. Harry went on to work successfully as a construction manager for several architectural/construction firms, including a year-long contract job in Saudi Arabia.
Harry met and married Patricia Jones in 1959. They were happily married for 57 years, during which they enjoyed many friends, parties and trips following Harry's love for racing cars and boats. They had one child, Elizabeth Frost, and set up house in Conshohocken, first on Barren Hill Road and then 10 years later on Brook Lane.
They created many happy memories there with their many neighbors and beloved dogs.
After a happy and productive life, Pat passed away after a long battle with Alzheimer's during which Harry took loving care of her in their little villa in Souderton. Harry received a second lease on life when he reconnected with longtime neighbor and friend Joanne Wilfong and they commenced six happy years together splitting their time between Jenkintown and South Carolina where they enjoyed boating, golfing, shuffleboard, trivia nights, auctions, and many the pleasant Drive.
After a three year journey thru various cancer treatments Harry decided to cease treatment and live out the rest of his days doing the things he enjoyed: Spending time with Joanne, playing golf, taking long drives, watching baseball games, visiting with his grandchildren, petting dogs, and having a beer with friends. He led a very long and happy life and died just as he wished -at home with people he loved around him. In the words of one of his favorite musical artists, Frank Sinatra: He did it his way.
Harry is survived by his daughter Libby, her husband John, and their five children: Madeline, Jamie, Claire, Georgia, and Jack.