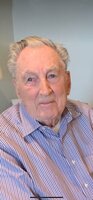 Raymond C. Knorr
Raymond (Ray) C. Knorr, 90], of Mt. Pocono, PA, passed away on June 25, 2022 in Lafayette
Hill, PA.
The Masonic funeral service will be held at The Masonic Village of Lafayette Hill on 14 July
2022 at 10:45 am ET. The Visitation will be held before the service from 10:00-10:45 am.
Ray was born in Sharon PA to Chester and Dorothy Knorr on March 04, 1932. He went to high school at Sharon High and graduated in 1950. He spent summers and holidays in the Pocono Mountains, where his uncle, Earl Brock, instilled his passion in Pharmacy. He went on to earn a degree in Pharmacy form the University of Pittsburg. He Purchased Brock's Pocono Mountain Pharmacy from his uncle and was proprietor until his retirement in 1987. He was the first in his family to attend college and inspired many to become Pharmacists, including his daughter Wenda. He enjoyed skiing, relaxing at the beach, playing Pinocle, showing antique cars, model trains and being involved in many organizations in the Pocono's. Ray was an active Mason for over 70 years and served as Worshipful Master, was a volunteer fireman, served in the US ARMY in Germany and was charitable to many organizations including the Mount Pocono
United Methodist Church.
Ray is survived by his daughter, Wenda K. Brennan of Radnor, PA. His grandchildren, Kaitlin Barra, Edward (Ted) Brennan III, Meghan Brennan and great-grandchildren, Collins Barra and William Barra. He is preceded in death by his Wife of 44 years, Janet Susan, son, Scott Raymond and his companion Mildred Wheaton.
In lieu of flowers, Memorial donations may be made to The Masonic Village of Lafayette Hill
(https://masonicvillagelafayettehill.org/donate/).