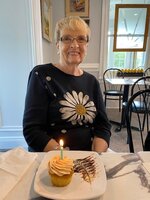 Karen Rauscher
Karen L. Rauscher (Drew) 78, of Philadelphia passed away on Wednesday December 22 surrounded by her children. The youngest of seven children born to John and Christina Drew, Karen was raised in Iowa and met her husband Joe when he was stationed on an Iowa Air Force Base. Karen and Joe were married for 56 years before Joe passed away in 2019.
Karen was a caring and giving person, always the first one to reach out to help. She was a volunteer for the Philadelphia Ronald McDonald House for over 20 years. She also worked at Hair Concepts in Lafayette Hill where her coworkers were truly her family. They loved her and Karen really loved them. She was a member of St. Peter's Lutheran Church. Karen enjoyed reading and was a fabulous baker. Her dogs, Meggie and Gracie brought her such joy. Her greatest love was being a mom-mom and spoiling her grandchildren. She never missed any of their school or sporting events and baked them endless amounts of cookies.
Karen is survived by her children: Joseph Jr. (Barbara), Kristen Artillio (Darren), Jennifer Gibbons (Sean), and Kelly Hanna (Matt). She was the proud Mom-Mom of: Gabriella, Joseph, Nicholas, Jude, Finn, Jake, John, and Declan. She is also survived by her brother John Drew.
Karen was loved by many and will be missed dearly. As a mom, mom-mom, sister, aunt, neighbor and friend, she truly was a light in every life she touched.
Private family services were held December 24. A memorial service will be held on Monday, April 18, 2022. If anyone would like to send contributions to the Philadelphia Ronald McDonald House in Karen's memory, the address is: 3925 Chestnut Street, Philadelphia, PA 19104.