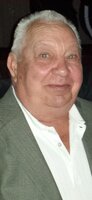 Vincent E. "Duke" Craven
Vincent Craven, of Cape May, New Jersey, passed on Saturday, December 4, 2021 at the age of 81. Beloved husband of Charlotte (Smigo); father of Kathleen Stella (John); Vincent Jr. (Aimee); Lori Craven Nath (Sanjay) and Valerie Carlisle (Gregory). He was PopPop to 10 grandchildren, Kyle, Matthew, Samantha, Devon, Daulton, Kiernan, Riley, Breandan, Sophia and Joya. He is survived by his brother Eugene Craven and sister Dorothy Lynch.
He was born to Eugene Craven and Catherine Krystopowicz on November 10, 1940 in Philadelphia, PA and was known to all as "Duke". He went to North Catholic High School and was high school sweethearts with his wife Charlotte. They were married for 58 years. He doted on his family. He was a die-hard fan of the Eagles and Phillies. He loved country music, preferring the classic old timers. He could give directions to get anyone anywhere and one landmark always included a bar on the corner. He was a man of few words, but never failed to leave anyone without a one-liner. Duke was fortunate to retire at the age of 57 and he and Charlotte moved to Cape May, New Jersey. He enjoyed walking on the promenade and watching the ocean. He was even game to learn how to ride a bike at the age of 65. Needless to say, that did not go as well as he planned. He will be missed dearly by his family.
In lieu of flowers, please make a donation to a charity of your choice.