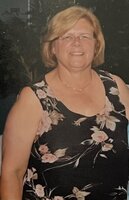 Christine S. Fiorello
Christine S Fiorello (nee Green) 72, of Baltimore, Maryland passed away on November 9, in the comfort of her own home. She was born to Enda and Hubert Green on September 15, 1949.
Christine worked for both Whitemarsh Township, as a bookkeeper, and Whitemarsh Police Department, as assistant to the chief, for 20 years. She then moved to Brigantine, NJ where she worked at the Northfield School District. She was retired, and spent time in both Phoenix, AZ and Columbus, OH, recently moving to Baltimore, MD. Christine was an avid reader, and enjoyed both cooking and baking. She also enjoyed traveling, lighthouses, and spending time with her grandchildren.
Christine is survived by her daughter, Jessica (Jim) Fiorello Deery, her son, Nicholas (Melisa) Fiorello, and her grandchildren Caden, Ella, Morgan, and Dominic.