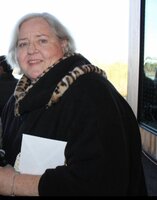 June M. Bomboy
June M. Bomboy, 67 years, of Conshohocken, passed away on Friday October 22, 2021

She was born on Tuesday October 27, 1953 in Bryn Mawr, the daughter of the late William and the Yvonne (née Englebert) Stephens.
June grew up in Lafayette Hill where she graduated from Kennedy High School in 1971.
She devoted her life to the Medical Field for over 35 years in various positions where she touched the lives of many people.
Her main priority in life were her 3 children. She was the most devoted, amazing, loving mother in the world. Independent and determined to make her childrens lives amazing.
June loved the Beach and spending time watching her grandsons playing basball and football.
June Bomboy was survived by her children, Timothy S. Bomboy Jr. (Amber), Heather Hightower (Leon), Adrienne Washington (Tommie); her siblings William Stephens, Katherine Stephens, Craig Stephens and her 10 Grandchildren. June in is preceeded in death by her brother the late Michael Stephens.

June's Funeral Mass will be held on Thursday, Oct 28 at 12:00 PM at Saint Philip Neri Church 437 Ridge Pike, Lafayette Hill

A Visitation will be held on Thursday, Oct 28 from 10:30 to 12:00 PM at the church before the Funeral Mass
Donations can be made to Donate Life America

June's Interment at Calvary Cemetery of West Conshohocken 235 Matsonford Rd., West Conshohocken


.