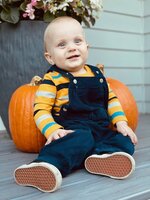 Keegan R. Langerfeld
Keegan Robert Langerfeld of West Norriton, PA, 1 year old, gained his angel wings on October 16th, 2021 at home in his sleep.
Keegan was born on October 10th, 2020 and was instantly loved by so many, especially his Mommy and Daddy, Brianna and Robert Langerfeld, and his doggies, Kimber and Dublin. Even though it was cut short, Keegan lived a full and happy life. He spent his days playing with remote controls, phone chargers, and anything that wasn't a toy. He enjoyed his weekly swimming class, running errands with his Mommy, his special "Daddy and Keegan" days that typically ended in Chic-Fil-A, and long walks in his blue car. Keegan had such a personality. He was adventurous, funny, shy, and loving. He knew how to melt your heart with his bright blue eyes and his bleach blonde hair.
Along with his parents, Keegan is survived by Elizabeth Burrell "Mom-Mom" of Philadelphia, PA, Christopher Burrell "Pop-Pop" of Salem County, NJ, and Nancy and Eugene Langerfeld "Nana and Sir" of Lafayette Hill, PA. Also, his aunts and uncles, Ashley and Thomas McTaggart of Haddonfield, NJ, and Kristen and Daniel Moser of Eagleville, PA, and his wonderful big cousins, Liam, Ian, Colton, and Brian. As well as many, many other family and friends.
A celebration of Keegan's life will take place Saturday, October 23rd, at Messiah United Methodist Church, 527 Ridge Pike, Lafayette Hill, PA 19444. Visitation will take place between 9:00 – 11:00AM with a service immediately following. The church is requiring masks to be worn while inside the building.
in lieu of flowers, Keegan's parents ask for donations in his name to his favorite place, Elmwood Park Zoo, 1661 Harding Blvd, Norristown PA 19401