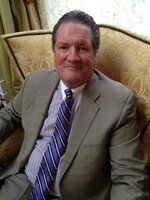 Francis Anthony "Frank" Craig Jr
Frank Craig of E. Norriton, passed away on 9/9/21 after a courageous battle with cancer. He was the husband of Mimi Craig to whom he was married for 38 years. Son of the late Francis Anthony Craig Sr and Molly Darragh Craig.
He was a proud graduate of Cardinal Dougherty High School where he was an active alumni member, and he went on to play basketball for Spring Garden College.
Frank was a proud father and grandfather, loving brother, son, and wonderful friend who was full of so much heart and love. He was a man of steadfast faith who would take the shirt off his back for anyone.
Frank was the ultimate family man who cherished daily phone calls with loved ones and boasting about his 9 grandchildren. His favorite pastimes included golf, watching the Phillies, Storytelling, Valley Green bike rides, running (he famously completed 13 Sea Isle City beach races), Malvern Retreats and spending time with family. But most of all Frank was devoted to the love of his life Mimi.
He always considered himself the luckiest guy in the world.
He is survived by wife, Mimi Craig and 4 daughters, Cristy Convey (Jim) Alison Gebey, Lauren Fisher, Amy Craig; 9 grandchildren, Jamie, Aidan, Tommy, Margo, Chase, Ryan, Jack, Andrew, and Sam; Brother and Sisters, Sally Reading (George), Kathleen Black (Joe), Molly Costello (Jerry), Tom Craig (Jan), Preceded in death by his sister Patricia Craig and brother Jack Craig (Mary Jo).
Frank's interment will be held privately.
In lieu of flowers memorial donations may be made to Saint Philip Neri Church 437 Ridge Pk. Lafayette Hill, PA 19444