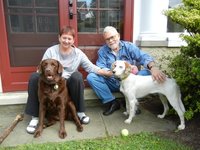 Dennis F. Brookshire
Dennis Brookshire passed away peacefully on June 22, 2021 at Sunrise of Lafayette Hill where he was living for the past 18 months. Dennis fought a courageous battle for over 10 years with MDS. His family would like to express their gratitude to Dr. Frederick Fellin from Jefferson and to doctors and staff at Chestnut Hill Hospital for their compassionate and quality care.
He was born in Brooklyn NY and spent most of his adult life living in the Greater New York area. His parents Fred and Sophie Brookshire and his sister predeceased him. Dennis always considered himself a real New Yorker and never forgave the Brooklyn Dodgers for moving away.
His love of language and photography enriched the lives of others through his teaching and in his work as an editor and photographer in the field of blindness. Dennis was an avid book collector and leaves behind an amazing collection of literature of all genre. As a returning adult he completed a MA in Literature at the College of New Jersey.
Dennis is survived by his wife of 36 years and her two children from her first marriage, Christine Anderson-Crannage (son-in-law Peter), Mathew Anderson, and three grandchildren, Morgan, Kaleen and Jonathan. His best buddy chocolate lab Abbey also predeceased him.
Dennis was fond of saying that he knew life best through books and movies. His family would like to share two stanzas from his favorite poem, Funeral Blues by W.H. Auden, which was featured in another favorite, the movie Four Weddings and a Funeral. He would have approved adding this to his remembrance.
Stop all the clocks, cut off the telephone,
Prevent the dog from Barking with a juicy bone,
Silence the pianos and with muffled drum
Bring out the coffin, let the mourners come.
He was my North, my South, my East and West,
My working week and my Sunday rest,
My noon, my midnight, my talk, my song:
I thought that love would last for ever: I was wrong.
A private memorial event to celebrate Dennis' life will be held at another time. And yes, his favorite movie will be shone.
A memorial donation may be made to Overbrook School for the Blind, 6333 Malvern Ave., Philadelphia, PA 19151