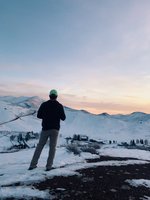 Thomas V. Kelly IV
Thomas V Kelly IV, 34, passed away suddenly early Sunday morning, June 13th. He is survived by his mother, Suzanne Kelly, his father, Vince Kelly, his step mother, Chrisanne Kelly, his wife, Courtney Kelly and their children-Taylor, Charlotte, Penn, and Goldie. Thomas also has 2 brothers, Robert Devine and Joshua Heyser. He was also quite loved by his in-laws, Mark and Ann Haenn, Meredith and Anthony Green, Matthew Haenn, Andrew Haenn, Brandon Haenn, Stephanie Haenn, Amber Devine, and Arianne Heyser, and many nieces and nephews.
Thomas was born June 23, 1986 in chestnut hill, Pennsylvania. He was a funny kid, always seeking the admiration of others and always wanting to get a laugh out of everyone. That didn't change as Thomas grew older! His charm and charisma could win over any crowd and he was well loved by so many.
Thomas was a loving father and husband. He loved taking his kids on hikes, swimming with them in their pool, showing off his surfing and skateboarding skills, and teaching them how to fish. He shared his love of music with them, often having kitchen dance parties late into the night-way past their bedtime! Thomas was passionate about good food, deeply enjoyed his golf, and was a closet artist!
Thomas will be missed by many but his spirit and zest for life will live on in the hearts on the people he's touched over the years.
In lieu of flowers, donations can be made in his honor to the Thomas V. Kelly education fund for his children.