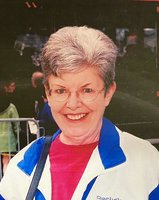 Shirley E. McIntyre
Shirley E. McIntyre, 78, of Erie Pennsylvania, passed away peacefully surrounded by her family on June 2, 2021, in Worcester, Pennsylvania.
A funeral mass will be held at Epiphany of Our Lord Church on June 9, 2021, at 11:00 with Reverend Joseph J. Quindlen officiating. Burial will follow at Holy Sepulchre Cemetery, Philadelphia, Pennsylvania. Visitation will be held at Epiphany of Our Lord Church on June 9, 2021 from 10:15-10:45. Lownes Family Funeral Home will be handling the funeral arrangements.
Shirley was born in Meadville Pennsylvania to Harold B. and Mary Rose (Dippold) McIntyre on June 16, 1942. She attended Meadville High School and graduated in 1960. She went on to earn both her Bachelor's and Master's Degrees in Education from Edinboro State College. Shirley became a lifelong resident of Erie, Pennsylvania where she had many friends. She worked as an elementary school teacher in the Erie School District for over 35 years and was a member of the Erie Education Association and the Pennsylvania State Education Association. Shirley enjoyed traveling, jigsaw puzzles, working on her land and movies, particularly musicals. She championed many children's charities.
Shirley is survived by her sister, Patricia A. Osborne of Limerick Pennsylvania, her sister-in-law, Pauline H. McIntyre of Camp Hill Pennsylvania and three generations of numerous nieces and nephews. She is preceded in death by her parents and her beloved brother, H. William McIntyre. Memorial donations may be made to Einstein Montgomery Home Health, Hospice and Palliative Care, 1330 Powell Street, Suite 100, Norristown, PA 19401. The family wishes to extend their gratitude to Einstein Montgomery Hospice for their wonderful care of Shirley.