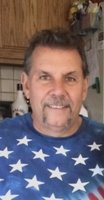 David A. Van O'Linda
David A. Van O'Linda of Collegeville, formerly of Norristown, passed away Sunday, March 14th 2021.
David was the beloved husband of Jean Murphy Van O'Linda for over 42 years. He was the loving father of David, Shawn, Andrew, and Heather. He was also the loving "Pop-pop" of Shawn, Niya, Zoey, Dawson, Aiden, Alexis, and Gia. His dog Harlee, who was his companion on his daily excursions.
David graduated from Plymouth Whitemarsh High School when he met Jean of Norristown. He worked extremely hard for his family at Dale Construction as a union carpenter for over 25 years. His eye for detail and perfectionist work ethic made him a valuable asset in the workforce.
Blessed with his outgoing and positive personality, combined with his amazing story telling ability, he was able to make friends everywhere he went. He loved to golf, hunt, and ride his Harley across the country. His family was ALWAYS his #1 priority! He had teaching lessons in everything he did and will truly be missed. David's attention to detail is what truly set him apart and made him the great husband, father, and friend we all knew.
David's Funeral Services will be held privately.