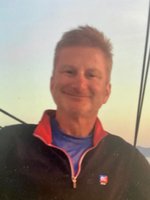 William S. Petersohn
A hero, at the age of 58 passed peacefully on February 11, 2021 after a long and courageous battle with cancer. He passed at home surrounded by his loving family. Bill was born September 9, 1962 to Randy and Maxine (Kantrow) Petersohn.
Bill was a devoted and loving husband, father, brother, and loyal friend. He was well liked and received by many. Recently, thirty Theta Delta Chi fraternity brothers from his college days at Lehigh University came to his house for a drive-by visit; traveling from California, Texas, Boston, New York, and Maryland to spend one final day with their brother, "Eagle".
Bill will be especially missed by the Wissahickon Skating Club in Chestnut Hill where he shared his passion for ice hockey. He grew up playing the sport with the Valley Forge Colonials, then participated in adult ice hockey for many years. He started coaching youth hockey once his sons started to play and continued until recently. During these years, he made a huge impact on many young players. Some have recently shared, they would not be where they are today had it not been for, "Coach Petersohn". Throughout his illness he remained dedicated and continued his love for coaching. In 2019, he was honored by the Philadelphia Flyers, "Hockey Fights Cancer" at a Flyers game for his dedication to the sport. Surrounded by the team he was coaching, Wissahickon Bantam A's, along with family and friends, it was a very special and exciting night.
Bill was an instrumental force behind the success of Mortgage Capital Trading (MCT) company based in Bala Cynwyd and San Diego. He took great pride in working with wonderful and supportive colleagues - a second family to Bill. He took the initiative to start an internship program to help college students have a meaningful summer experience with MCT.
Bill enjoyed traveling with his family to many countries, playing golf, attending concerts/shows, hanging and relaxing with friends and family.
Bill was predeceased in death by his mother, Maxine. He will be sorely missed by his surviving wife Heidi (Funke), his sons Drew and Jack, his father Randy Petersohn, his sister Lori (Craig) Israelite, his brother, Josh Petersohn, father and mother in laws, Alfred and Barbara Funke, brother and sister in laws, Alfred and Sue Funke, Fred and Amy Funke and Chris Funke, along with his many nieces and nephews and many more family members, friends and colleagues.
His great sense of humor and positive outlook on life will always be remembered in our hearts.
Bill's funeral services were held privately. The link below will direct you to a recording of the funeral services that took place on Sunday, February 21, 2021 at 12:00 PM.
https://vimeo.com/512661982/c3c8ccd10f
In lieu of flowers, memorial gifts can be made in memory of Bill Petersohn:
Abramson Cancer Center Development
3535 Market Street, Suite 750
Philadelphia, PA 19104
Include your loved one's name in the memo or note with your gift, and make checks payable to "Trustees of the University of Pennsylvania".
Online gifts can be made by visiting PennMedicine.org/Abramson/Donate
Or
Bill Petersohn WSC (Wissahickon Skating Club) Coaches Helping Kids Fund
https://www.gofundme.com/manage/the-bill-petersohn-fund
Fund Description:

Bill's wish for all hockey donations was to create a fund to advance his vision of the game. Bill had an unmistakable view of the game that grew out of his own playing style and developed into Bill's coaching style. Play for the love of the game. Play every shift with a purpose. And above all, play for the team. Coach Bill would often tell the kids he was not there to put them into the pros; he was there to pass on the love of the game through coaching future generations of young players. And along the way, the kids learned from Coach Bill not only about how to play this sport-of-all sports, but learned how to grow, to support others, and to persevere. All funds donated to this GoFundMe will be managed by Wissahickon Skating Club, a 501(c)(3) corporation, to support players who, regardless of talent, grind it out for the team, shift after shift, game after game. Wissahickon Skating Club will work together with Bill's family defining the parameters of Bill's fund.