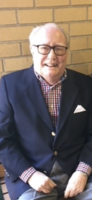 Guy F. Martin
Guy F. Martin, of Plymouth Meeting, PA 1/6/1934 – 1/14/2021
Guy was a 47 year parishioner of Epiphany of Our Lord, Plymouth Meeting, PA.
He was the loving husband of Isabel (Powell-Prendergast); Son of the late Joseph A. and Dorothea Martin (Schmidt); brother of the late Joseph A. Martin (Margaret) and Kevin Martin (late wife Joyce); father of Guy, Jr., Lawrence, Diane, preceded in death by daughter Joan; caring stepfather to Thomas, James, Stephanie; loving uncle; and Pop-Pop to Amanda, Samantha, Megan, Rachel, Sophia, Nicholas, and great-grandchildren Jillian, Amelia, Max and Hudson. Remembering always cousins Natalie Dugan (late Denis) and Dena Tarsatana (Tony), and appreciating his extended in-laws.
Guy Graduated from St. Joseph's Prep (1951) and St. Joseph's College University (1955). He served in the US Army from1956 to 1966. He retired from his business of 40 years., wherein he participated as an intermediary, specializing in merger & acquisitions, marketing expansions, financial consulting, and as an adjunct professor of financial management and business policy at St. Joseph's and Drexel Universities.
He enjoyed being with family and friends, politics, tennis, golf, boating on the Chesapeake and most especially, lunch with his best friends, where political discussions ruled.