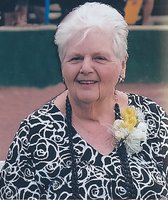 Ann Louise Gibbons
Ann Louise Gibbons, née Esher, age 87, of Philadelphia, passed away at the home of her daughter and son-in-law in Lafayette Hill, PA, on Sunday, January 3, 2021. One of three children and the only daughter of William J. Esher, Sr. and Louise Esher, née Cormaney, Ann Louise was born in Philadelphia on December 13, 1933.

Raised in South Philadelphia during the Great Depression and war years, Ann Louise graduated from the South Philadelphia High School for Girls in 1951 and worked for several years as a young woman for Smith, Kline & French. Married in 1966, she gave birth to triplets four years later. Lovingly devoted to her family, she was a kind and thoughtful daughter, sister, mother, aunt, and grandmother, whose home became a welcome locale for holiday celebrations and other gatherings of great warmth and cheer. Her unwavering religious commitment led to many volunteer efforts in the South Philadelphia community on behalfof the former Calvary St. Paul Presbyterian/Episcopal Church on South Broad Street, including her work with recently arrived Southeast Asian immigrants and the distribution of annual Thanksgiving baskets to those in need. Ann Louise was also president of the Parent-Teacher Association at D. N. Fell Elementary while her children attended the school. Her affection and care for younger children was further expressed through her conscientious directorship, for many years, of the preschool program at Calvary St. Paul. She enjoyed annual summer vacations at the Jersey Shore at her brother's summer home as well as several memorable trips in the United States and abroad with friends and, later in life, her daughters.
Ann Louise is survived by her three children, Kristin Reiff, Karol Gibbons, and James Gibbons, Jr. She was preceded in death by her elder brother William Jr. and younger brother Joseph. She will be remembered as well as a beloved aunt, great-aunt, and grandmother.
Funeral Services will be held privately with a memorial service that will be announced at a later date.

In lieu of flowers, memorial contributions in Ann Louise's name can be made to Old Pine Street Presbyterian Church (oldpine.org) or Shriners Hospitals for Children—Philadelphia (https://www.shrinershospitalsforchildren.org/philadelphia).