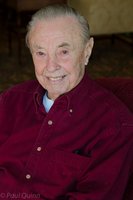 Raymond L. Cummings
Raymond Leo Cummings was born in Baltimore in 1922. He went to Loyola High School where he met friends that he kept for life. After moving further north, he attended college at Villanova University where he received a BA in history. His college experience was interrupted by WWII and his service in the Army Air Corps. Later, he received his MA in History at Georgetown University and his PhD at the U. of Pennsylvania.
Ray met the love of his life, Anne Reardon, at a Chestnut Hill College mixer. They married in 1950, settled in Plymouth Meeting and had 3 daughters, Kathleen, Patricia and Sharon.
Ray joined the faculty of Villanova University, History Department in 1949 and served on the faculty until the mid-1980's. He loved being a faculty member at Villanova and was Professor Emeritus. He served as the president of the Retired Faculty Association for many years. Ray loved traveling and took his family to Paris in 1956 where he did research as a Fulbright Scholar. Throughout his career, he returned to France and to Italy multiple times for further research. He led groups of students to Italy and later on groups of adults to France, Italy and many other countries. Into his early 90's, his passion for travel continued. He enthusiastically climbed the steep steps of a Mayan pyramid in Mexico and the heights of Machu Picchu.
He faithfully walked daily and took care of the dogs his children adopted for many, many years. He loved growing plants, flowers and vegetables and fought a valiant battle with rabbits year after year to harvest lettuce. Ray had, and will be remembered for, his wonderful sense of humor, which never left him until the very end. He walked, swam, played tennis and an excellent game of Ping-Pong until late in his life. He was a wonderful dancer and loved being with his daughters and grandchildren, whom he teased by hiding their stuffed animals and insisting that they hid themselves. He attended every grandchild's graduation and danced at each one's wedding. He will be missed greatly by those who loved him. Traveling was his idea of heaven. We know he has now started his next great adventure accompanied by his beloved Anne. Happy travels, Dad and Mom.
Ray is survived by his three daughters, 5 grandchildren - Robert, Kevin, and Brian LeMoine; Beth LeMoine-Taylor and Kaitlin Cummings Cockerham as well as seven great grand-children - Owen, Eliza, Sean, Nathan, Kylie, Dylan and Hana.
In lieu of flowers donations should be made to the Villanova University History Department Graduate Student Scholarship fund in the name of Dr. Raymond Cummings. 800 E. Lancaster Ave. Villanova, PA 19085