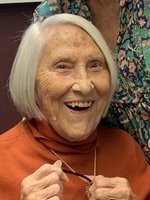 Louise J. Hornberger
Our Mom passed away peacefully at 6:55 pm Tuesday, May 12th, 2020, on the 75th Wedding Anniversary of the marriage to the love of her life, our Dad, Elvin S. Hornberger. Dad passed away in the year 2000. She adored him and kissed his picture every night before going to bed. She missed him terribly and wanted to be with him.
Mom was an incredible cook and baker. She was most famous for her Jewish Sour Cream Cake, better known as Bread Cake, and her Italian Rum Cake.
She never thought she was a great cook, but everything she made, except for liver and onions (in my opinion), was fabulous.
She loved to bowl, go to the Casino with her friends, play cards, dance, and, most of all, be with her family. She spoke so often of her brother Dom, Jane his wife, & her Mom and Dad. She treasured the times she had with her children, grandchildren, James, Mark, Nicole & Daniel, and great-grandchildren, Sybil & Cora. She spoke of them everyday and loved looking at the many pictures on the iPad and frame that consistently showed different pictures every few seconds.
She also spoke of her many friends daily. Aunt Gert, Rodger and Carryl Dombrow, The Goldbecks, The Sabias, Rolston's, Isabelle Aleva, Dottie and Leo, Dottie Busfield, Louise Capozzi, Dutchie Porrino, Mary Vacca, Elaine Harker, Irene Chezney, Bernie, Harriet, Minnie, Mary W., Rose Ann & Joe, Barb & Bob; the list goes on and on. She missed them so much and asked for them often.
She loved our friend Dan and asked for him & his wife Debie every day. I think she had a crush on him.
Mom loved sports. The Phillies, the 76ers, The Eagles, and in the last six months her love of tennis grew ("Judi, is it 'High Score or Low Score'?" & "Hank, any sports on tonight?") as well as her great new love of watching, Ninja Warriors. She was amazed by this show! I think she enjoyed the cute guys most of all!
She adored our dog, Duke, her faithful companion who never left her side up to the time of her passing.
We miss her every day. She will live on in our thoughts and in our hearts, and as she said, she will always be with us.