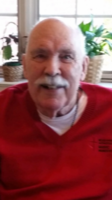 Wayne D. Markham
Markham, Wayne - Born in Detroit MI on November 4, 1930 and passed away May 7, 2020.
Son of Lester and Esther (Dungan) Markham.
Pre-deceased by his wife Barbara (Bresee) Markham.
Wayne's love of music started in the boys choir at Saint Timothy's church in Roxborough. He continued to perform in musicals both at Roxborough High School and Geneva College. He was a 40+ year member of the Ridge Ave United Methodist Church senior choir. He also enjoyed his time with the Roxborough male chorus.
Wayne served in the US Army and was a 60+ year member of the Blue Lodge of Free and Accepted Masons.
He delighted in fishing with his family and enjoyed traveling internationally.
Wayne loved people and could talk to anyone. Most of his professional careers surrounded this talent... working with Penske automotive, KAR Products, Stella Dora sales, claims adjusting, and several self employed ventures including publishing The Philadelphia Bus and Rail Directory with SEPTA.
He is survived by his two daughters, Patricia Varrone (Thomas) and Carol Greenberger (Harry) - his two grandsons,
Thomas Varrone (LeeAnn) and Mark Varrone (Dara) and three great grandchildren, Jeremy, Violet and Natalie.
In lieu of flowers, please make a donation in his name to:
Mail check made out to:
Employee Appreciation Fund Masonic Village Lafayette Hill
Attn: Adrienne Staudenmayer
Masonic Village at Lafayette Hill
801 Ridge Avenue
Lafayette Hill, PA 19444