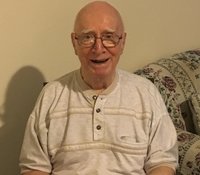 Nick A. DiGiovine
Nick A. DiGiovine
Nick A. DiGiovine, 93, formerly of Northern New Jersey, passed away on May 2, 2020.

Husband of the late Concetta (Vitale) DiGiovine, he was the devoted father of Louis DiGiovine (Patricia) of Lafayette Hill, Pa.; brother of Assunta Reggio and the late Pat and Filomena; loving grandfather of Anna, Michael and Mary.
Nick was a proud WWII Navy Veteran who most recently worked in the construction industry until he retired in 1990. He spent his retirement years doing what he loved most: spending time with his family. Nick was a generous man and an enormous presence in the lives of his family members for whom he cared deeply. Nick treasured time spent with his grandchildren, nieces and nephews. Nothing made him happier than to hear someone refer to him as "Pop-Pop" or "Uncle Nick".
Funeral Mass will be private. A celebration of his life will take place in the future.
Memorial donations may be made to the Parkinson's Disease Assn., c/o Crozer Medical Centre, Chester, Pa. 19013.