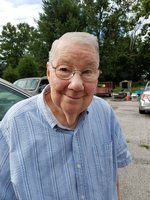 Richard Norman White
Richard Norman White, 90 years, of Trooper, passed away on Wednesday April 1, 2020 at his residence.

He was born on Monday January 6, 1930 in Norristown, the son of the late Charles and the late Cora (née Whitby) White.

Richard is survived by his wife, Bette White; son, Jeffrey White (Susan), daughters, Sandra Messner (Late Robert) and Tracy Jordan (James), as well as12 Granchildren & 13 Great Grandchildren.

Richard's services will be held privately.