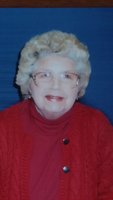 Inge S. Hawkins
Inge Hawkins, 89 years old, passed away quietly on Friday, November 22 in the comfort of her home in Plymouth Meeting, PA. She was born in Nurnberg, Germany on June 28, 1930. As a young teenager, Inge lived through the Allied bombings of her beloved city where 89% of the buildings were destroyed. After WWII, she met her husband, married in 1951 and then came to America and began her life as a military wife for 22 years.
She was the loving mother to her two daughters, Diane Clewell (Rick) of Plymouth Meeting, and Linda Quinn (Dan) of Burke, VA. Inge was a devoted grandmother to her three grandchildren, Dana, Ashley and Daniel and as a great-grandmother to Cambrie (6 months old) and Collins (2 weeks old). We truly believe she was waiting for these babies to be born. Her life was dedicated to her family and friends. Inge was the wife of the late Alfred W. Hawkins who passed in 2009.
A visitation will be held on Saturday, Dec 7 from 10:00 AM to 11:00 AM at the funeral home followed by a memorial service. A graveside service will be at George Washington Memorial Park, 80 Senton Ave., Plymouth Meeting.
Donations may be made to Einstein Montgomery Hospice, 1330 Powell St., Norristown, PA 19401.