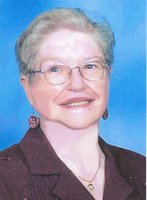 Mary Anne Heil
Mary Anne Heil, of Flourtown, formerly of Andorra, Philadelphia, PA, passed away peacefully at her home, surrounded by her family, on November 5, 2019.
Mary Anne was the devoted wife of Donald, her husband of 64 years; loving mother of Mary Patricia, Stephen, Gregory, and Janet, and beloved mother-in-law of Robert, Laura, and Thomas; treasured grandmother of ten: Daniel, Joseph, Claire, Meghan, Jennifer, Kimberly, Scott, Michelle, Theresa, and Stephen, and great grandmother of five: Riley, Palmer, Maddox, Penny and John; sister of the late George Littel.
Mary Anne, daughter of the late William and Mary Littel, was born in Philadelphia and grew up in Roxborough. She was a graduate of Little Flower High School. She worked as a librarian for the Free Library of Philadelphia and later, for nearly 30 years, in the Philadelphia School District, at William Levering Elementary School.
In retirement, Mary Anne enjoyed reading, travel and cruises, playing bridge, and spending time with old and new friends, and she cherished the company of her husband and their growing family.
Visitation will be held on Tuesday, November 26, 2019, at 10:00-11:00 AM, with Mass commencing at 11:00 AM, at St. Genevieve Catholic Church, 1225 Bethlehem Pike, Flourtown, PA, 19031. Interment will be held following Mass at Calvary Cemetery.
In lieu of flowers, donations may be made in Mary Anne's name to either Little Sisters of the Poor, 5300 Chester Ave, Philadelphia, PA, 19143 or St. Genevieve Catholic Church, 1225 Bethlehem Pike, Flourtown, PA, 19031.