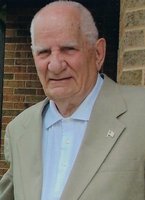 Ralph J. Kelly
Ralph J. Kelly of Plymouth Meeting passed away on October 23, 2019. He was 94. He was the son of the late Ralph and Agnes Kelly and was raised in Manayunk and Roxborough where he attended St. John the Baptist in Manayunk. He served on the U.S.S. Wilkes Barre in World War II and saw action in the South Pacific. He was on deck and survived 30-foot seas in a typhoon in the South China Sea only to be injured in the Battle of Okinawa. He was awarded the Purple Heart for those injuries.
Upon discharge, Ralph joined his father and brothers, Tom and John on the Pennsylvania Railroad but his soon-to-be wife convinced him to try something different. That led Ralph to try the up and coming air-conditioning business. Ralph joined the Elliott-Lewis Corporation and spent the next fifty years with that company rising from a salesman to Executive Vice-President.
Ralph is survived by his wife of 62 years, Theresa (McGee) and five children: Ralph (Sheila), James (Darlene), Brian (Carol), Jean Menkhaus (Al) and Joseph (Sonya), eleven grandchildren: James, Matthew, Patrick, Bridget, Deanna, Shaun, Christy, Carolyn, Kevin, Kathleen and Brian and six great-grandchildren: Madison, Finnegan, George, Brynn, Piper and Margaret. He is also survived by his sisters, Agnes Kelly and Elizabeth (James) DiNardo. He was predeceased by his brothers, Thomas, John, Joseph and James and sisters, Theresa and Margaret.
Ralph was a life long member of St. Philip Nery Church. Ralph is best known for his coaching. He coached the Giants in the Whitemarsh Little League and the Eagles in the Whitemarsh Biddy Basketball League and St. Philip's CYO basketball.

Ralph's Funeral Mass will be held on Saturday, Oct 26 at 11:00 AM at Saint Philip Neri Church 437 Ridge Pike, Lafayette Hill

A Visitation will be held on Saturday, Oct 26 from 9:30 to 11:00 AM at the church before the funeral mass.

Ralph's Interment will follow the funeral mass at Calvary Cemetery 199 Old Gulph Rd., Conshohocken

Donations in Ralph's name to St. Philip Neri Church are appreciated.