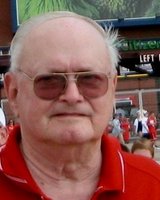 Walter T. Kaupp
Walter T. Kaupp, age 79, of Chestnut Hill Pennsylvania died on Tuesday, August 20, 2019.
Walt was born in Philadelphia, the son of the late Walter E. Kaupp and the late Betty (ne'e Neill) Kaupp. He was also the younger brother of the late Robert Kaupp, Sr.
Walt attended Cheltenham High School and served in the U.S. Army. He was an avid traveler and loved experiencing new cultures and learning their history. He and his brother frequently traveled to Europe and Puerto Rico together. Walter also loved going to see Broadway shows. If there was a new "hit" show, chances are Walt had already seen it.
Walt most recently worked at the Philadelphia Cricket Club. Over the course of his 25 years there, he met and worked with great friends.
He is survived by his Nieces and Nephew; Carolyn Kaupp, Lorraine Bailer, and Robert Kaupp, Jr., as well as his grand-nieces, Meghan Bailer, Hannah Kaupp, and Molly Kaupp.
Walter's services will be held privately.

In lieu of flowers memorial donations may be made in Walter's name to Shriners Hospital for Children- Philadelphia
3551 N. Broad St. Philadelphia, PA 19140