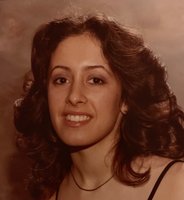 Debra Anne Littlejohn
Debra Anne Littlejohn, 60 years old, of 113 Archbishop Drive Conshohocken PA 19428, entered heaven on Friday August 16, 2019 after a long struggle with cancer. At the time of her passing she was at home and surrounded by loving members of her family.
Debra was born in Buffalo, New York on May 7, 1959 to John O'Connors and Dorothy (Bastian) O'Connors. She and David Littlejohn were married on July 17, 1982 at the Bethany United Methodist Church and just recently celebrated their 37th anniversary. They have two daughters, Meghan, 28 and Caroline, 23.
Debra is survived by her parents John and Dorothy O'Connors, her sister Dorothy (O'Connors) Hilton, Dorothy's husband Edward, her nieces Jacqueline, Lindsey, and Katherine, her nephew Edward, and she is predeceased by her grandmother Marie O'Connors.
She graduated from Emmaus High school in 1977, from Philadelphia College of Pharmacy and Science in 1982, and was a registered Pharmacist. She worked at the Hospital of the University of Pennsylvania, Fairmount Institute, and then joined Wyeth (now Pfizer) in 1993. During her 26-year tenure, Debra was involved in many impactful areas related to the development and responsible dissemination of clinical trial information related to the company's products. Her integrity, dedication, cooperative attitude, generosity, and friendship will be greatly missed by those who worked with her.
Debra was an active member of Saint Peter's Lutheran Church of Lafayette Hill. For twenty years she and her family have participated in the annual Boars Head Festival. She was passionate about gardening and attended the Philadelphia Flower Show every year. Debra spent hours outside creating her lovely, peaceful home garden refuge where God's flora will continue to be a living expression of her love and passion for the beauty of plants and flowers.
She enjoyed the Pennsylvania Ballet and for decades coordinated the many family Christmas trips to "The Nutcracker" and other ballets. Debra also loved to travel and did a wonderful job researching, planning and arranging the many worldwide family trips taken over the years.
Her loving smile and willingness to help everyone will be missed dearly by her husband, daughters, family and friends.
"Go My Children with My Blessing"

Her Funeral Service will be held on Saturday, Aug 24 at 11:00 AM at Saint Peter's Lutheran Church 3025 Church Rd., Lafayette Hill

A Visitation will be held on Saturday, Aug 24 from 9:00 to 11:00 AM at the church before the funeral service.

Debra's Interment will follow the funeral service at Saint Peter's Church Cemetery
Please send online condolences to www.lownes.com.
In lieu of flowers, memorial contributions may be made to the Rena Rowan Breast Center or St. Peter's Lutheran Church:
https://giving.apps.upenn.edu/fund?program=MC&fund=600270&appeal=PMWEB
Penn Medicine Development, Attn: Kathleen Hertkorn
3535 Market Street, Suite 750, Philadelphia, PA 19104
St. Peter's Lutheran Church
3025 Church Rd., Lafayette Hill, PA 19444.