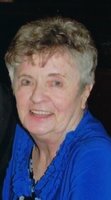 Regina M. "Jean" Keenan
Regina M. (Robertson) Keenan was born on February 4th, 1936 to Margaret and Adam John Robertson. Known as Jean or Jeannie to her loved ones, she was the second of 6 children, with one older sister (Margaret), and 4 younger siblings (Louise, Kathleen, John, and Jim). Although times were sometimes hard, the family was happy and full of love. Jean was raised in Andalusia and was a graduate of St. Hubert Catholic High School for Girls (class of 1953).
While working at Crown, Cork, & Seal in Philadelphia, Jean met and fell in love with Francis C. ("Frank") Keenan. They married on May 2, 1970 and moved to Plymouth Meeting. Jean left the company to be a full-time mother, and the couple welcomed children Jean Marie, Francis ("Frank"), and Mary Katherine ("Mary Kate"). Although she worked part-time jobs from time to time, her life was dedicated to her family, often volunteering at her children's schools and attending every game, school play, awards assembly, etc. She made the home a warm and cozy place, especially with her home cooking, both for daily family dinners and for special occasions. She was open and affectionate, and was "Mom" to many more than just her 3 children. After her children married, she was blessed with 7 grandchildren: William, Francis ("Franky"), and Amelia ("Mia") Calcagni (born to Mary Kate and Bill), John ("Jack") and Sarah Keenan (born to Frank Keenan and Renee Keenan), and Kerrianne and Jessie Johnston (born to Jean Marie and Chris Johnston). Jean treasured her role as "Gran" and enjoyed every moment spent with the little ones.

In her spare time, Jean was a passionate reader who loved spending time at the library, and a longtime member of St. Philip Neri parish in Lafayette Hill. She also enjoyed crossword puzzles, handwork, and was one of the most devoted (and vocal) Eagles fans in Pennsylvania. She relished spending time with her siblings and often met her sisters for lunches and Scrabble games. Jean had a wonderful sense of humor and a heart full of love; spending time with her always made a person feel better, whether it be due to shared laughs or to a listening ear and caring advice.

Jean and Frank had a very happy marriage. They shared many interests, and enjoyed traveling together to destinations such as the Poconos, Avalon, NJ, Florida, Cape Cod, the Bahamas, and Las Vegas, to name just a few. Frank passed away in 2012 after 42 years together. They were reunited when Jean was called to her eternal home on August 15th, 2019.

Jean will be lovingly remembered by her children and grandchildren, as well as her 4 younger siblings, and many nieces, nephews, and friends. The love she shared with all of us will remain in our hearts forever.
Visitation will be held on Tuesday, Aug. 20th from 9:30 to 11:00 AM at St. Philip Neri Church, 437 Ridge Pike, Lafayette Hill. Funeral will be held at same location at 11 AM, with interment to follow at Westminster Cemetery, 701 Belmont Ave., Bala Cynwyd. In lieu of flowers, donations may be made to the American Association for Cancer Research, 615 Chestnut St. 17th Fl. Philadelphia, PA, 19106(https://aacrfoundation.org/).