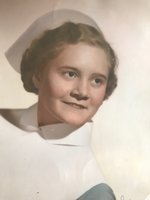 Eleanor Matsko
Eleanor J. Matsko, 86 years, of Conshohocken, passed away on Monday February 4, 2019 at Sunrise Of Lafayette Hill.

She was born on Tuesday February 23, 1932 in Onieda, the daughter of the late John and the late Johanna (née Maylath) Matsko.
Eleanor graduated from Hallahan in 1948 and Saint Mary's Hospital Nursing Program 1951 and was in the Legion of Mary for 15 years. She was a registered nurse for 45 years and enjoyed doing volunteer work at Saint Joseph's Villa for 16 years.

Survivors Include:

• Brother James Matsko
• Sister Cecilia Matsko
• Sister Joan Gerace
• Nieces and Nephews: Missy, Emily, Katie, Stephanie, James Jr., Peri Anne, Nicole, Mark, Marlene, Mary, Joan Ann, John Jr., Matt, Joe, Suzanne, Christine, Marty Jr. and many cousins

The Funeral Mass will be held on Saturday, Feb 9 from 10:30 AM at Saint Matthew's Roman Catholic Church 219 Fayette St. , Conshohocken

Eleanor's Viewing will be held on Saturday, Feb 9 from 9:30 to 10:30 AM at at the church before Mass.
The Interment for Eleanor will follow Mass at Saint Matthew's Cemetery, Conshohocken



.