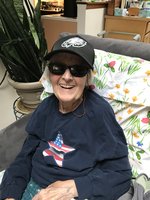 Patricia S Nasuti
Patricia S. Nasuti, 83 years, of Plymouth Meeting, passed away on Friday January 18, 2019 at her residence.
Patricia was born on Saturday January 18, 1936 in Philadelphia where she grew up. Her parents died when she was young and she was raised in Manayunk by the sisters Ann and Alice Gallagher. She attended the nursing school at Roxborough Memorial Hospital and after receiving her R.N. worked several years there in the Emergency Department. Patricia went on to receive her BA and MBA from what was then the Philadelphia College of Textile and Science. After trying her hand in other fields, she eventually returned to nursing until her recent retirement.
She loved nothing more than spending hours in the yard working on her garden or taking care of the plants in and around the house.
She married Donald Ryan and while the marriage ended in divorce, she had two children. Patricia is survived by her son Brendan and preceded in death by her son Myles.
Her Funeral Service will be held on Saturday, Jan 26 at 11:00 AM at Lownes Family Funeral Home 659 Germantown Pike, Lafayette Hill.
A Visitation will be held on Saturday, Jan 26 from 10:00 to 11:00 AM at the funeral home before the service.
Patricia's Interment will take place at Hillside Cemetery 2556 Susquehanna Rd., Roslyn following the service.