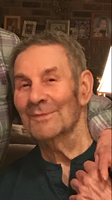 Vincent James Bono
Vincent James Bono, 87, formerly of Phoenixville, passed away on 18 January, 2019, at the Southeastern Veterans Center in Spring City, PA.
He was the loving husband of Mildred Bono; they were married on Halloween Day, October 31, 1955.
Born in Norristown, PA along with ten siblings Vincent was a dedicated son of the late Bartholomew and Louise Bono.
He was a US Army and Korean War veteran and enjoyed recalling stories from his service time.
Vincent spent most of his working career as a professional auto mechanic, a trade he learned in the service, and retired after many years at Henkel Corporation.
A proud Italian-American, he enjoyed a spirited game of bocce and, with a persistent sweet tooth, was an avid baker of cakes, cookies and pies to share with his large extended family.
In addition to his wife, Vincent is survived by seven children; Vincent Bono, Jr., married to Suzanne Bono of Chester Springs, PA, David Bono of Royersford, PA, Mary Lou Arnold, married to H. M. Arnold III of Franktown, VA, Theresa Ann Henry, married to Mark Henry of Chesapeake, VA, Donna Bono of Phoenixville, PA, James Bono, married to Michelle Bono of Centreville, VA, and Katharine Bono of Bryn Mawr, PA, and ten grandchildren; Hayley, Sophia, Michael, Jason, Joshua, Laura, Joseph, Natalie, Dominic, and Demetri.
Vincent will be celebrated and laid to rest at his gravesite Friday, January 25, 2019, at 2:00 P.M. at the George Washington Memorial Park Cemetery, 80 Stenton Ave. Plymouth Meeting, PA.
In lieu of flowers, contributions may be made to the Fisher House Foundation.