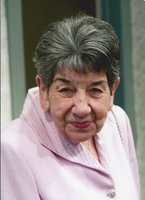 Louise E. Della Porta
Louise E. Della Porta, 94 years, of Lafayette Hill, passed away on Tuesday January 15, 2019

Loving wife of the late Anthony Della Porta. She is survived by her children, Louise Fry (Herb), Anthony (Judy), Mark (Joyce), Robert (Jean), and David Della Porta (Kim); devoted grandmother of 16 and great-grandmother of 12. Sister of the late Josephine and Ann.
Louise passed away peacefully after a long and full life devoted to her husband, family, and countless friends. A world class cook and a member of the greatest generation, she will be forever remembered as Grandmom to all.
Funeral Mass will be held on Monday, Jan 21 at 11:00 AM at Saint Philip Neri Church 437 Ridge Pike, Lafayette Hill

A Visitation will be held on Monday, Jan 21 from 9:30 to 11:00 AM at the church before Mass
Louise's Interment will be held privately
Memorial Donations may be made to the above church
.