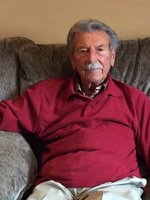 Peter M. Marziano Jr.
Peter M. Marziano passed away April 10,2018 with his family by his side.
He grew up in Philadelphia and lived there his entire life – in the years following his retirement in 2007 he enjoyed his home and friends in Sarasota, Florida on a frequent basis
It is with sadness in our hearts that our family is saying goodbye to such a wonderful man. He proudly served his country in the Korean War and enjoyed a career for over 50 years in the men's retail clothing business. He started out at John Wanamakers in Philadelphia as a buyer and then moved on to Jacob Reed's Sons where he was president for many years. The balance of his career was spent in the wholesale end of the business in New York City with Grief Company and H Freeman. He traveled all over the world and worked with many well known designers. He finished his career as head of merchandising with the Tom James Company.
He worked side by side with his wife volunteering at Pennsylvania Hospital raising in excess of $1,000,000 over 20 years through donations and the Annual Golf Tournament held at Whitemarsh Valley Country Club each year.
Peter was a proud graduate of Roman Catholic High School and was also an avid golfer and member of the Whitemarsh Valley Country Club for many years. He was also known as an impeccable dresser and was also an avid Philadelphia Sports Teams fan.
He idolized his family and leaves them with many wonderful memories and stories that do not end about the things he did, the people he met, the places he had been and favorite comments about everything!
Beloved husband of Jenny Lewis Marziano, loving children daughter Lisa (Milus) and son Peter III, grandchildren who adored PopPop, Jamy (Lennon), Adrienne (Lindsey), Stephanie (Marziano), Peter IV, Angelica (Marziano) and Gabriela (Marziano) and seven great grandchildren. He also leaves behind his last sibling of seven children, Theresa and her husband Robert Wisniewski and many loving nieces and nephews
Funeral Mass will be on Wednesday April 18 at 11am from Saint Philip Neri Church-437 Ridge Pike Lafayette Hill,Pa.19444.
Visitation will be from 9:30-11am Wednesday at the church. Burail will be private.
In Lieu of flowers, please send donations in his name to the above church.