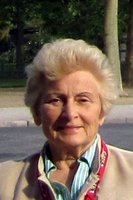 Dorothy Harper
Dorothy (Knup) Harper, age 85, of Lafayette Hill, PA died Friday, March 16, 2018 at her home Dorothy was born July 21, 1932 in Phila., PA.
She is the daughter of the late Alfred and the late C.Dorothy (Greaser) Knup Sr..
She is the wife of the late Rollin H. Harper Jr. who passed in 1997.
She is survived by one daughter: Shanti Leslie (Michael Marshall) and three sons: Rollin Harper III (Djuna), John Harper (Terri) and David Harper (January),; Sister of : Alfred Knup Jr. (Sandra) Also survived by her 3 Grandchildren-Daria, Lauren And Danielle.
A memorial service will be held 12:00 pm on Sunday, March 25 at Lownes Family Funeral Home, 659 Germantown Pike, Lafayette Hill, PA.
Burial will be private at Ivy Hill Cemetery.
Calling hours will be Sunday, March 25 from 11-12 at Lownes Family Funeral Home.
Memorial donations may be made to the Penn Wissahickon Hospice.
.