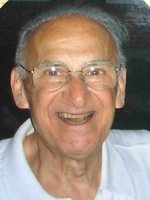 Joseph R. Tranquillo
Joseph R. Tranquillo, age 88, formerly of Plymouth Twp., died Tuesday, February 27, 2018 at Sunrise Assisted Living of Lafayette Hill . Joseph was born May 19, 1929 in Phila., PA.
He is the son of the late Stefano and the late Addolorata (DiDonato) Tranquillo.
He served in the Air Force during the the Korean war.
He was a retired Insurance Broker.
He is survived by his 2 nephews- Stephen Tranquillo (Kathleen) and Robert Tranquillo (Amy).
He was predeceased by his brothers Vincent and Anthony.
A Mass of Christian burial will be held 10:30 am on Monday, March 5 at Saint Philip Neri Church, 437 Ridge Pike, Lafayette Hill, PA.19444.
Burial will be in Saints Peter And Paul Cemetery, Springfield Pa.
Calling hours will be Monday, March 5 from 9:30-10:30am at Saint Philip Neri Church.
.